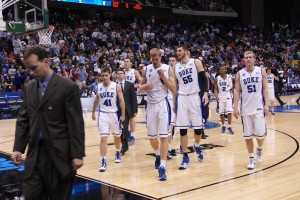 JACKSONVILLE, Fla. - The NCAA South Regional is now one game old and here are a few thoughts on the tournament to date.
Some have said it's like a a light went off when they attempt to describe the play of Brian Zoubek this season and that analogy is pretty much on target.  The one thing easily noticed is that Zoubek communicates with his teammates verbally and that is valuable to Coach Kryzewski who demands his players talk to one another.    But the thing which stands out to me is that Zoubek is playing faster, moving quickly to his assignments on the court, be it setting a pick or positioning himself for rebounding.  Zoubek is now moving without thinking which is something other bigs can learn from.  Knowing ones assignment makes things go smoothly and that's why Zoubek will start the rest of the NCAA Tournament.
Every time I see Bob Valvano I get chills in that he looks so much like his brother Jimmy.  Valvano is working with the Louisville broadcast team doing color.
Speaking of Louisville a Cardinal writer sitting beside me asked during the Duke game, asked what time the two teams would play on Sunday.  Well, California knocked them back on their heals and Louisville never recovered and that means a lot of tickets became available.  After the game Rick Pitino addressed the media in the hallway of the locker room rather than the podium.  And the Louisville fans?  Let's just say that a good many of them brought a raw smack talking way into the coliseum.  Another interesting note is that Duke was mentioned by many of their players in interviews and let's just say there was no love lost.
One might think that Louisville overlooked California and that may be true, but make no mistake, the Golden Bears are a good ball club.  Cal is very quick and all of their players scrap and hustle.  They run a three guard lineup and yo can ill afford to leave Christopher, Randle and Robertson open beyond the arc.  Cal will make yo pay on long rebounds in that they will turn those into points quickly.  Cal like dribble penetration, but they are depth shy up front and that is where Duke should attack them.  Coach Mike Montgomery took a slightly veiled shot at Krzyzewski stating that he  had coached against him a couple of times.  Reading between the lines he was hinting that he was 2-0 versus Krzyzewski.  Word is that he never liked Stanford being called the Duke of the west during his tenure there.  FWIW, Cal held Louisville to 2 points in the last 6:37 of the game.
One of the complaints from media at the event is the cost of wireless internet service.  It costs $16.95 a day for wireless in the coliseum which seems a bit steep to many.  Of course, they had an early bird special of $9.95.  Where is the Blue Light Special?
A clash of red is in order tomorrow when Cornell takes on Wisconsin in tomorrows opening game.  Both fan bases have a solid contingent.  Of course, Duke lost at Wisconsin early this season but the Badgers barely slipped past a Wofford team that didn't have a single made  three pointer or assist in the first half of the contest.
Duke will address the media at 3:15 today and then they will have a closed practice.  Duke of course, will play in the late game which will start thirty minutes after the conclusion of the Cornell-Wisconsin match up that starts at 2:20 eastern standard time.  BDN will bring you coverage of today's press conference.
The Jacksonville Veterans Memorial Coliseum is not much to look at outside but it has a clean aesthetic look on the inside, meaning not an over abundance of court paint or advertising bling.  It's built for theater as well as sports and there are not a lot of bad seats.
We will continue to put out interviews from Jacksonville and more, so stick around BDN this weekend as we are on the roaf to the final four with the team.