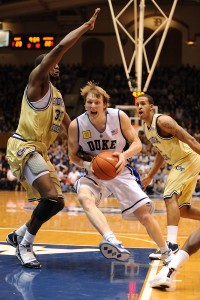 Greensboro, N.C. - The Duke Blue Devils advance to the ACC Tournament semi finals with a 57-46 victory over Virginia.  The game was far from pretty and that is somewhat of a tradition in the noon game.  Quite simply, if you are Duke, you're glad this game is behind you.
As an observer I never felt Duke was threatened, but they certainly didn't nail the coffin shut.  The Blue Devils generally come back strong after a somewhat lack luster performance and they will need to be at their best come tomorrow.
Duke was led in scoring by the big three, imagine that!  Kyle Singler led the way with 18 points while Nolan Smith and Jon Scheyer added 15 apiece.
The Cavaliers pulled within two at 46-44 at the 6:24 mark but Duke went on an 11-2 run to finish the game and as always when Duke's offense struggles they lean on their defense.
"I thought our defense was very good throughout.  I don't think it was the best game we played, but Virginia had a lot to do with that," said Krzyzewski.
Singler got two quick fouls in the first half and sat for most of the first half, but his play steadied the Dukies on a day when they were sluggish on the offensive end.  Singler grabbed a team high 11 rebounds while Brian Zoubek chipped in with 7.
"I don't think we came out with a sense of urgency that we needed to.  We were sluggish," said Singler during post game interviews.
The Blue Devils will need to get back to rebounding the ball better for they won the battle of the boards by a margin of 39-37 over a small team.  Duke also allowed 12 fast break points while scoring just 2 on their on.  The Blue Devils did outscore the Cavaliers on second chance shots by a 15-2 margin.
We'll have more coming your way, including a chat with Nolan Smith and more, so stay tuned to BDN for full weekend coverage of Duke Basketball.  Bare with us for there is an internet connectivity issue at the Greensboro Coliseum.