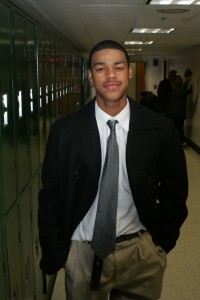 Can you talk about being the first junior in roughly fifty years to win the Washington D.C. Metro player of the Year award?
Oh, it was a huge honor. Being the first guy in nearly 50 years and playing against the type of competition we had this year with Kendall and Tyler and everybody. I was very appreciative. It meant a lot.
What's the latest in your recruitment? Do you have a timeline for when you'd like to decide by?
I'm trying to cut it down to [private] a more manageable amount of schools, like,  about fifteen. Then, by the end of the summer, I hope to have it cut down to about five and then take my officials in the Fall. Hopefully, decide either by the middle of my senior year or by the end, if I have to.
Are those primarily the same schools that were after you in late January?
Yes, sir.
Who's after you hardest right now?
Oh, well, pretty much everybody is coming at about the same amount.
Have you taken any visits recently? Do you have any visits planned?
I know I'm going to visit Kentucky and then Arizona. After that, I'm not sure. I'm sure I'll see some others.
What do you think you've improved upon most since last AAU season?
I'd say my ball handling and my passing.
What do you feel is the weakest part of your game right now?
Rebounding. Even if I'm a guard, I've got to be able to rebound my position and get better at that.
Are any schools recruiting you to play off the ball at times?
No, not at this time. They all pretty much say they want me to have the ball in my hands at all times.
How important is immediate playing time to you?
It's very important.
Is playing with other great guards on the roster something you would embrace?
Yes, definitely. I want to win, first and foremost. If there are other guards there, I still feel like I'll be able to get mine. I don't see it necessarily as a problem.
This is your last go around on the AAU circuit with these guys. Do you find yourself getting, at all, more emotional?
Not yet, I'm just trying to approach every game with the mindset of wanting to win. I just want to win every game. That's it right now.
Have you noticed a major difference between playing with the sixteens versus now playing with the seventeens? Tyler mentioned that it was a big wake up call for him last year.
Yes, definitely. Guys are so much more mature and talented. It's faster and these are the best of the best. Definitely, big difference.
Where's your dad's shirt? I thought you wore during every game.
I have it. It's right over there. I just had it on during the warm-ups.
Alright, thanks, Quinn. Good luck throughout the season and congratulations on the award.
No problem, sir. Thank you. [/private]