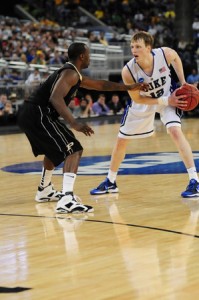 INDIANAPOLIS - The Duke Men's Basketball team has settled into Indianapolis and many Blue Devils fans are either here or on the way.  They'll be joined by students and of course fans from Butler, Michigan State and West Virginia.
It's always nice to be playing in an area that loves its basketball and Indianapolis has a rich tradition not unlike North Carolina.  The Blue Devils had their first practice today and they will be on the court for the general public to view tomorrow at 4:00 in Lucas Oil Stadium.
There is really nothing like the excitement of the Final Four and BDN will be on the scene with the Duke Blue Devils and we'll be bring you live updates, interviews and much more.  We'll attempt to tweet live from the games provided the logistics can be worked out and we'll start to churn out articles on Friday.
Stay tuned for the Blue Devil Nation is once again covering the Duke beat in grand style.  We have been with the Blue Devils every step of the way this season and now we hope to close it out with a Duke National Championship.
Of course, it will not be easy for Duke and West Virginia come into the contest red hot.  The Mountaineers have won 10 straight contests, while the Blue Devils have won their last 7 and 16 of 17 since a loss to Georgetown.
See you in the A.M. Blue Devil Nation!