First of all, Blue Devil Nation will be celebrating Duke's national championship for some time to come, but there is little rest when you want to bring fans the best Duke coverage available.  Blue Devil Nation Premium will kick off its AAU coverage this weekend as we cover the Nike EYBL Session I, also known as the Boo Williams Invitational in Hampton, Virginia.
There we will cover the likes of Quincy Miller, Austin Rivers and more names you can learn about as a member.  In fact, the spring and summer is one of the busiest times at BDN in that we bring you lots of information during the off season.
We'll once again bring our top notch coverage of AAU events where Andre Slater and myself will interview and analyze the prospects at the various camps.  Last season, BDN Premium was the only Duke site to cover all the major events, setting a new standard of Duke subscription site coverage.  Furthermore, we were there in person to cover the kids you really want to hear about and not some brief banter and fodder from national corporate site types.
Not that the national guys aren't good mind you, just that they certainly are not there to concentrate on true Duke targets as we do.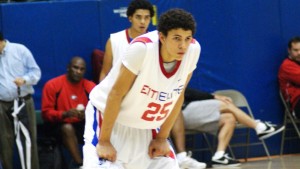 We were the only site to cover the Blue Devils in person all the way through the tournament.  We're in touch with the subject matter and we bring years of experience to the table.  And BDN is a fans site, for our members make up the Blue Devil Nation.
We don't offer public message boards for they fast turn into rant fests and rumor mills and we feel there are forums already out there to fill those needs, the best being Duke Basketball Report's message boards who keep it as real as they can.
But our members message board allows you to come in from the storm and talk rationally with other fans, some insiders, some knowledgeable and some just fans.  We have a tight knit community of followers and our reviews and member feedback is glowing.
Isn't it time for you to join Blue Devil Nation Premium and gain full site access and talk with fellow members about all things Duke?
And be sure to catch up on all of our past interviews and updates as you settle into your new national champions t-shirt while being a part of the fastest growing Duke web site around.
Blue Devil Nation depends on it's members to allow us our coverage, so if you have liked our numerous free offerings what is 27 cents a day for getting even closer to the programs and full access to the site?
Here is a link where you can join Blue Devil Nation Premium -
step by step instructions and here is a direct link to the joining process