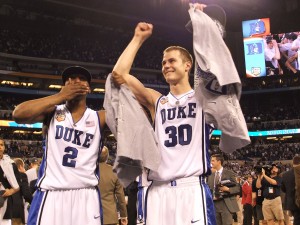 DURHAM - It's almost as if the 2010 Duke senior class bloomed right along with spring.   As Duke celebrated their fourth national title this past Monday, three Duke seniors - Jon Scheyer, Lance Thomas and Brian Zoubek - blossomed in full glory.
Each senior basked in the lighted stage of victory, all of them smiling, all of them relieved and all of them standing in the end as national champions.  In fact, they were the only ones standing when past seasons brought about disappointing ends.
If you follow the Duke program closely you know that this core of seniors had nobody look up to in their freshman campaign.  Despite that, the group was seasoned in the Duke system and in their senior year they formed a special bond which led to some amazing team chemistry.
In short, this senior class is special in many ways and it is one that will always be cherished in that they made all proud to say "We are Duke!"  Not that many fans were not content, but that the taste of another title on an exhilarating tournament run was that little something which brings about fan base bliss.
When Jon Scheyer was asked to run the point this season there were many who doubted that he could get the job done, but it didn't take long for them to realize he could.   That's how talented Jon Scheyer is. He became the primary ball handler and survived the pressure of the one position that controls the game all season long.
That season ended, of course, in a national championship and his ability to switch from the off guard spot is one of the main reasons that Duke cut down the nets in Lucas Oil Stadium.  There is no doubt that the signs which  read, "Scheyer was on fire" in his senior season were spot on in so many ways.
The amazing thing about Scheyer was his selflessness.  At no time this season did he worry about individual records.  He fell just short of JJ Redick's all time free throw percentage mark, inches from Wojo's assist to turnover ratio mark, and a three pointer away from passing Gene Banks on the Duke all time lists.
With a 'team first' mentality, Scheyer sacrificed personal accolades for the big prize.  What Scheyer does is put his team first and he left fans with what they most covet that being a national championship and he himself now has a ring.  Despite the aforementioned three alums records, each of them would trade places with number 30.  With Duke's stringent standards on raising numbers to the rafters, Scheyer's will not appear there.  But if he were playing for the neighbor a few miles down the road, he would probably get four banners for his play.
Regardless of the fact that his name will not hang atop Cameron Indoor Stadium, Scheyer has embedded himself as one of the most popular players in Duke basketball history.  The Illinois native represented Duke in a class way while in Durham and there is a tremendous sadness when one realizes they'll never see this kid in the royal blue again.
Here was a player who proved himself to be one of the best and, in the end, King of the Hill.  While he fell a few votes shy of ACC Player of the Year and came painfully close to first team All American, Jon did what it took for Duke to take home the big enchilada.
Make no mistake in that the Blue Devil Nation sheds a tear when they think of the exploits of Jon Scheyer.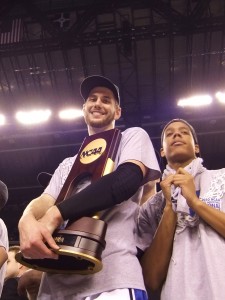 There was a time when one would have thought Brian Zoubek would come and go from Duke with little fanfare when the buzzer sounded for his last game.  Zoubek went through a litany of problems while at Duke, most of which are documented enough that there is no need of mention.
One doesn't have to know Zoubek's struggles to appreciate what will be remembered for a long time to come.  The nation was still sleeping when Zoubek started to don a beard and in the process his play took on a Sampson-like quality.
Here we are at the national championship game and a deep cheer "Zoubs," rolls through Lucas Oil Stadium as the senior rips down his tenth rebound of the game.   And what a critical rebound it was, with seven seconds left on the clock and Duke clinging to a 60-59 lead.
Zoubek was fouled on the play and hit the first of two shots, the second bounding off the rim per instructions from the bench.  That miss was rebounded by Butler's star player Gordon Hayward who slashed to mid court as a vicious pick was set on Kyle Singler allowing him to get an open look.
While the ball just barely bounced off the backboard and rim, Zoubek had run back towards the basket after raising a long arm in Haywards face.  Who is to know if that didn't just alter Hayward's shot enough to barely miss?
Either way, Zoubek came up big in the last minutes of this game and his play down the season stretch helped will the Blue Devils to a red hot 18-1 mark, finishing off a year to remember.  Zoubek came full circle after a career with ups and downs and he did that at just the right time for without his play the Blue Devils would not have been the last team standing.
Zoubek was quite simply a beast of a presence and watching his confidence grow and to have gotten to know him during this amazing stretch run is something that made a lifelong impression on  me.  Brian leaves Duke as one beloved Blue Devil and I think I speak for the entire Blue Devil Nation in saying, "thank you so much for the memories, Zoubs."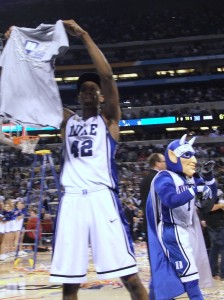 Much like Zoubek, Lance Thomas would often be taken to task on message boards by armchair coaches over his career.  What they now recognize is that Thomas was the workhorse for this season's Blue Devils team and he did not only what was asked of him, but more.
Some might still need to be told that Thomas really did the dirty work his whole career and that the fact he was starting for many years meant there were never better options.  Some things just don't show up in the stat sheets.  You can't measure hustle, nor is there a stat for the willingness to guard the other team's best player, be it a guard or a power forward.
Thomas was Duke's 'Energizer Bunny' and his chemistry with Zoubek allowed Krzyzewski to form a two and two rotation with the brothers Plumlee, providing Duke with front court depth unlike any season in their history.
Thomas got his hand in the face of many shooters in the Butler game and by hitting three of five shots in the game, he forced the Bulldogs to come out to guard him on the perimeter.  Thomas was invaluable to Duke this season after losing Gerald Henderson to the NBA and Elliot Williams to Memphis.  Thomas rose to the occasion and played his role to perfection to fill the gaps and, as a result, he has some new bling on his finger to show off to his beloved New Jersey homies.
Having followed Thomas and the Duke beat all season long, I can tell you firsthand that Thomas was one of the most focused and hardest working young men I've been around.  Here is a youngster who would never say quit, one who would get knocked down and get back up before he even hit the floor.
Thomas, like the other Blue Devil seniors, fought off some tears when answering questions for the media.  It was Thomas who told me during the off day in a sincere eye to eye manner, "We've got one more game.  We've got one more game to take care and then I can smile."
Well, Thomas was all smiles in the Duke locker room after his mission and that of his fellow seniors was complete.  There in the background was the national championship trophy sitting on a trainer's table and a piece of net hanging from each of the seniors' newly minted champion hats.
There was a special glow surrounding the kids who would wear their Duke uniform for the last time, and there was a sense around the whole Duke family that nobody want this magical journey to end.
"I'm at a loss for words," said Thomas in his now well realized passionate manner as I questioned him perhaps for the last time.  And I can tell you, Lance, with mirrored passionate honestym that the Blue Devil Nation is at a loss for words too and we thank you with all our collective hearts for leaving us with a gift that will keep giving as time passes on.