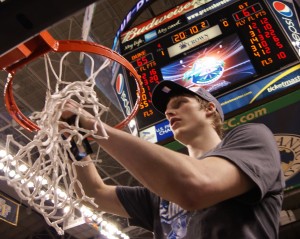 DURHAM, N.C. - Junior Kyle Singler announced on Monday his decision to remain at Duke University for his senior season in 2010-11. Singler, the 2010 Final Four Most Outstanding Player, has averaged 15.9 points, 6.9 rebounds and 2.1 assists per game during his first three seasons as a Blue Devil.
"I love being here at Duke and am excited about next year," said Singler. "I had two great options in front of me, but I did not want to miss out on all of the great things to come in a senior season."
Singler, a two-time AP honorable mention All-America, averaged 17.7 points, 7.0 rebounds, 2.4 assists and 1.0 steals per game as a junior while leading Duke to a 35-5 record and the school's fourth NCAA Championship. He had 17 games with 20 or more points this past season while posting seven double-doubles. Singler, a first team All-ACC selection, became one of 18 players in school history to score over 700 points in a single season, finishing with 707 points in 2010.
"I am looking forward to coaching Kyle in his senior year and seeing him develop more as a player and as a leader," said head coach Mike Krzyzewski.