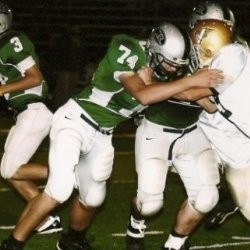 Duke was the first school to offer a scholarship to Shane Mertz, a 6'8" 275 pound junior offensive tackle from Hazlet, New Jersey, and the offers have kept coming in. On Tuesday, he received an offer from Buffalo and on Wednesday, he received an offer from Rutgers, bringing his total to four, with several others showing interest. Coaches from North Carolina also visited him at Raritan High on Wednesday and left with video highlights from his junior year.
On the field, Shane is a fierce competitor who excels with sound footwork and natural athletic ability. Heading into his senior year, he's working hard to "become a more complete, stronger player," and he's already gained 25-30 pounds this offseason. He takes great pride in his work in the classroom, and academics will be very important in his college choice. "I definitely want to be an engineer," he added, "so I'm looking for a school with a really good engineering program."
Shane is looking for a football program with prestige, and says that he plays his best under a coaching staff that will push him. "I would definitely prefer a more strict coach," he said, "that's what I'm used to - a staff that's a pusher."
Four schools have offered scholarships to the talented offensive line prospect, and Shane has been able to visit three so far this spring. Duke was the first school to offer and after visiting for their spring game, Shane said he "absolutely loved it there. The campus was great and I loved the whole coaching staff. That's why I really want to go back." Shane plans to visit Duke again in May for more of a "one-on-one visit."
Maryland was the second school to offer the junior, and Shane has heard "nothing but great things about it. I'm really looking forward to visiting and am researching more about their engineering program." Buffalo just offered a scholarship this week after Shane recently enjoyed a visit to campus for their spring game. Rutgers, the most recent to offer, is just 45 minutes from Shane's home and is also his father's alma mater. "He's really been pushing me to be a big Rutgers football fan." Shane plans to visit Rutgers again in May to meet with the coaching staff and learn more about their football and engineering programs.
Several other schools have shown increased interest this spring, and Shane is hoping to receive more offers in the coming weeks. Notably, UNC visited Raritan High this week; Shane hopes to impress his other suitors (which include Ohio State, Notre Dame, Northwestern, North Carolina, and Central Florida) through spring and summer camps and workouts. He plans to make his college choice around the end of the summer, but may wait until after his senior season so that schools have additional time to evaluate him.