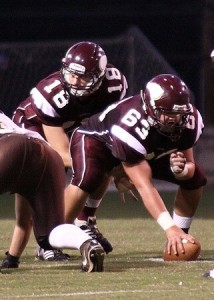 Duke Football is hot on the recruiting trail and offensive lineman are on the menu this week.  BDN's Patrick Cacchio talked with three offensive line prospects and here is the first offering.
Cacchio and our staff will be keeping tabs on several gridiron prospects as BDN Premium expands it's coverage of football recruiting.
Mack Crowder is a 6'4" 270 lbs junior center from Bristol, Tennessee, who currently holds offers from three ACC schools. Mack has been chosen as a preseason All-State and All-American center, and has yet to allow a sack in his high school career.
On the field, Mack uses the snap count to "fire off hard," making solid blocks in both for both the running and passing game. He likes to use his speed to make blocks downfield and feels he's a tough matchup for most linebackers. For his senior year, his goals are to "get better, stronger, faster, and smarter at playing football." In the classroom, he wants to keep up his good grades to prepare himself for college.
For his college choice, Mack is looking for a school with a good mix of academics (he has an interest in business or management), football, and location. So far, he has received three offers from ACC schools that all meet his criteria – Georgia Tech, Virginia Tech, and Duke. He really liked the physical style of football at Georgia Tech and Virginia Tech, but mentioned that Duke has the best academics and a football team that is "getting better every year under Coach Cutcliffe and the coaching staff." Mack has visited all three ACC schools and met with the head coaches, and hopes to make additional visits this summer to develop relationships with the staffs.
Mack has also received offers from Vanderbilt and Middle Tennessee, and hopes to have more offers soon. He hopes to finalize his college choice before the start of his senior year. Mack plans on attending at least two or three camps this summer, pending his father's work schedule. BDN will be in touch with Mack again as he nears his college decision.