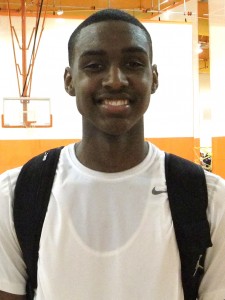 AKRON -  The Blue Devil Nation's Andrew Slater is on hand for the LeBron James "King James" camp in Akron ,Ohio.
Just this morning Michael Gbinije's  numbers were 10 of 13 (0 for 1 3pt FG), 2 for 3 FT totaling 22 points, 2 assists, 6 rebounds ( 2 off), 2 steals, 1 block.  Quincy Miller followed with a 25 point effort and if you are or were a premium subscriber these are the kind of updates you would get as it happens.  So, why not join the hottest premium Duke site on the web and get what we feel is the best overall information in the business.
Some of BDN Premium's benefits are -
-Recruiting is the life blood of any program  and we take you to the front lines with our coverage.  Reputable and accurate, BDN deals in facts not rumors.
- BDN's  focus is solely on Duke prospects first but we dabble in national recruiting as well.  Most corporate sites have people cover events that are not beaming in to the prospects you want to hear about.
- BDN's members only message board allows you to talk with other Duke fans in what we feel is a unique environment.  There is lot's of information in our forums that you don't see on our premium pages and we keep the forum riff raff free.  While not all of our members use the message boards, the ones that do seem to really enjoy the friendly environment.
- BDN's team of Andrew Slater and Mark Watson on the AAU and camp trail in basketball is as good a duo as there is in the business.  We cover "all" of the major events and bring you first hand reports and face to face interviews of the real prospects.  BDN set the standard in coverage last season and we will continue to do our best.
- BDN's interviews are second to none and we often go in depth with some prospects to get to know what they are like on and off the court or field of play.  Our members love our interviews which are timely and informative.  We won't lure you in with one quote and then give you little beef once you've joined nor will we use any smoke and mirror tactics.  We'll give you frank and honest questions and answers with no leading to get a result designed  to create
- BDN's unique photography that acts as your eyes bringing you a true fan experience.  We've been around the programs since, well, let's just say there is a lot of experience which allows us to know what you are looking for.
- BDN's post game audio with football and basketball players and all media event coverage will go to premium in the coming months, but there will still be a ton of free stuff.
-  BDN followed Duke all the starting from every game in Cameron to the Final Four where they won a magical National Championship.  No other Duke site was there every step of the way covering the Duke beat.  BDN established itself as one of the web's first true beat followers.
- BDN video is coming!  We've heard you and will bring you more and more as time goes on.
- BDN is expanding it's premium football coverage to include recruiting and we've just recently talked with three offensive line prospects.  Patrick Cacchio and Mark Watson will cover football recruiting with the best starting this month.  Just another reason to become a member.
There is more benefits than those  listed above and BDN could list a ton of members testimonials but instead, we'd like to simply promise you that our dedication to subscribers and this site is unmatched in the business.  We strive to bring you the best coverage available and invite you to check us out and see what you think.  Join now and come on in for a Duke "centric" experience.  After all, our members make up the Blue Devil Nation!