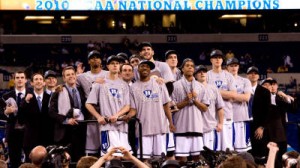 INDIANAPOLIS - Cheers of 'thank you seniors' rained down from the Cameron Crazies, who made the 600 mile trip to Indianapolis, as the Blue Devils stood on the podium to accept their National Championship trophy.
For the seniors the road, which ended in Indianapolis, did so with a NCAA Championship trophy.
"It means a lot to us [the seniors], especially I don't think any of us could have predicted the four years we had here," Jon Scheyer, who led the seniors with 15 points, said. "To finish it like this means a lot, especially going through it with these guys every day."
Scheyer, Brian Zoubek and Lance Thomas came through with clutch shots, crucial rebounds and championship winning defensive plays with the game in the balance as Duke captured its fourth National Title Monday night over the Butler Bulldogs 61-59.
For the seniors, the feeling is indescribable.
"To seal the deal at the end, I'm really lost for words on it," Thomas said.
The senior class has improved each year at Duke, letting the tutelage of Mike Krzyzewski sink in year after year while improving their NCAA Tournament resume with each trip to the big dance.
"It means the world to us, especially our senior class," Thomas said. "To come in and get knocked out of this tournament in our first game, and to have to, you know, live with that for the rest of our lives, you know, for the extra years after our freshman, sophomore, and junior year, just not getting as much success as we want, to leave champions, have our last game, leaving a national championship. It's tough to put words to."
It was a defensive slugfest from the beginning at Lucas Oil Stadium, with neither team willing to give ground or allow the other team to open up a large lead. It was like a heavyweight prized fight with each team absorbing the blows and responding with their own counter punches, neither wanting to fall.
So, while the lead changed 15 times and the score was tied 7, it was Duke's seniors, who have experienced everything a college basketball player could in their four years at Duke, that helped to will the Blue Devils in the end with crucial stops and rebounds.
Tonight's hero in the waning seconds was Zoubek.
"I thought Zoubs on his out of bounds defense, then he adjusts, altered the shot, then got the rebound, was so fitting for Zoubek, for Brian to do that, because he really elevated our team over these last six weeks, seven weeks, to where we would have a chance to play and win a national championship," Krzyzewski said.
With 13.7 seconds left, and the Blue Devils leading 60-59, Butler's Gordon Hayward drove right on Kyle Singler. Zoubek rotated over to help defend forcing Hayward to attempt an off-balance fade-away jump shot from the baseline that clanged off the rim.
The seven-foot senior plucked the ball from the air for his game-high tenth rebound. He was fouled intentionally with 3.6 seconds left, hitting the first free throw and intentionally missing the second.
Hayward's last second half court shot bounced off the back board and then the front of the rim before harmlessly falling to the ground.
"All the guys on this team had to elevate their game to another level to win this thing," Zoubek said. "Somebody new stepped up every single night. I mean, that's how great this team is, that we can have somebody win it for us that's new every single night."
Krzyzewski has shied away from talking about past Duke teams all season, rather focusing on this moment than looking at the past, but it is Coach K's fourth National Championships in eight title games as the Duke head coach.
"Tonight is all about these guys," Krzyzewski said. "That's what I've tried to do all season long, and especially in a tournament, because then you're asked more, like, you know, this could be Duke's fourth national championship and all that."