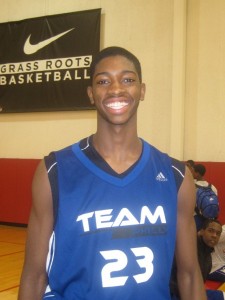 FORT WAYNE, Indiana – Amile Jefferson is a nearly 6'8″ sophomore forward from the Philadelphia area. This past season he scored 31 points and grabbed 10 rebounds in leading Friends Central to the Independent Schools State Title over Germantown Academy, 72-52. He was the only sophomore named to the first-team All-State team for the AA Class. At this past weekend's Speice Run 'N Slam All-Star Classic in Fort Wayne, Indiana, Jefferson opted to compete with the oldest age group and performed quite well for his Team Philly AAU program. After the initial game, Amile spoke with Blue Devil Nation about his state title, the latest in his recruitment, his impression of Duke and Coach Krzyzewski from his time spent at their Elite Camp, small forwards in the 2012 class, and the best cheese steak in Philadelphia.
Why don't we start with the championship game against Germantown? Talk about the win and also your performance. You obviously had a great game. Given the context, was it your best game to date?
(laughs) Yeah, it was a really good game, but, no, it wasn't my best. It was definitely a big win and I was happy we got that for our seniors. We had a great group of seniors and for those guys to leave on such a high note, instead of a loss, was such a big thing. Then, you know, for our last game, to be able to play at such a high level, it was definitely up there.
And they are always competitive.
Yeah, GA is always very good. So it was great to be able to beat them in the championship.
When I watched you in December in the Bronx, you were essentially the third or fourth option on offense. What happened between late December and March? Did they recognize that they needed to utilize you more or did you step up your game?
Well, I think I needed to establish more of a dominant role on the team for us


Sorry, but you must become a premium subscriber to view the rest of this post.

Join now by visiting the PREMIUM MEMBERSHIP link at the top of the page, where you can learn more about the benefits of a Blue Devil Nation Premium membership.