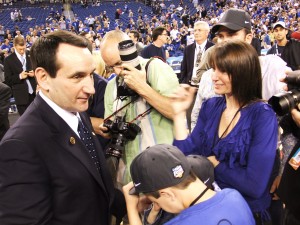 DURHAM - Well, there is nothing like going into summer with a national championship in tow for Duke fans and the program.  It's amazing how many positives come out when you are the last team standing.    One of the first and most important things is how a title helps with recruiting.  The Blue Devils coaches cannot be out on the road this month and NCAA rules have shortened their window of opportunities in seeing kids but that is just a blip in the radar.
Duke garnered a lot of respect with their win which is evident when BDN talks to several future prospects on the recruiting trail.  Doors have been opened and negative recruiting against the Blue Devils is tougher for unscrupulous opponents.  Take your pick of a few accusations that must now be taken off the table.  Big men do not develop at Duke?  Did anyone see how awesome Brian Zoubek was down the stretch?
That is just one of many accusations used against Duke but we'll not get into that here for that is a story for another warm day.  What we can tell you is that when Duke calls they get kids attention.  A simple letter from Duke gets kids excited.  One prospect recently told BDN  in a proud manner that Duke was now involved for his services, yet all he had was a letter but his interest may mean the Blue Devils take a closer look.
The Duke staff sends feelers out to several prospects but only a few make the grade and remain on the radar after the staff takes in open gyms and the grassroots events otherwise known as AAU basketball.
And prospects and their parents are wising up to the negative barbs by doing more research on their own.  It is well documented that many in the media want to play Duke up as the evil giant or that they are hated by many, but if one digs deep you'll see that there is little research done prior to what seem like  monthly rant fests.  Many unproven accusations have been sent the Blue Devils way and the curious thing is this seems to come more from shoddy journalism of late.  All it takes is one hater to get the ball rolling and then another media type might pick it up and roll with it not knowing there were few proven facts.  This in turn snowballs due to less stringent media requirements of the day and gullible people who believe anything they read on the web.
Face it, in the dawning age of the world wide web, falsehoods are a dime a dozen and with major search engines giving "Joe," off the street a chance to pass himself off as a legitimate and better yet knowledgeable writer for one of the many fan type sites that are butchering traditional journalistic integrity.  I cannot tell you how many times I have to shoot down rumors in our members forum from people who take these want to be insiders or new age journalist word.  That would for example be the word of a guy with no track record who has never seen Duke play in person nor one who might live in say, ACC country.  Their sources?  Why it's what they hear in the sea of shoddy modern day reporting where assumptions often take the place of fact.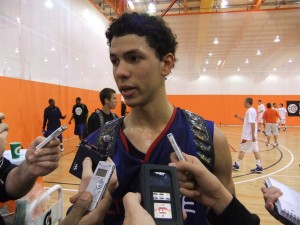 The truth is the truth and the fact is that Duke is more than ethical in their approach to recruiting and they have a track record for such.  And keep in mind that when you are on top, everybody literally gangs up on you.  When the Duke staff walks into events like say the Peach Jam a top notch Nike ran development camp for prospects, there will be respect for the job they did winning the title from other coaches, but once they have passed you can see some of them start to talk, heck, I've even heard it firsthand.
But the prospects themselves certainly know Coach K [Krzyzewski] is in the house and that they are coming off a national championship where they beat the numbers 2, 3, 10 and 12 teams in the country to gain the ultimate trophy.  But of course, Duke had an easy road, right?  Okay, enough on some members of the media and their hate.
The Blue Devils were already enjoying good recruiting efforts with Josh Hairston, Kyrie Irving and Tyler Thornton in the class of 2010 already in the fold and due on campus in late June.  But they have most recently received  two early verbal commitments from Michael Gbinije and Tyler Adams, two solid prospects which should prove to be part of a puzzle.
And if you dig some facts up, you'll find that both Gbinjie's and Adams families were in approval in that they knew the opportunity that was at hand for their sons.  I mean, how many kids parents wouldn't want to play for a coach who has four national titles, an Olympic Gold Medal and a track record for success?
Make no mistake, Krzyzewski's duties with Team USA have been a positive.  While I was trying to get away from talking more of the media I cannot help but reflect on how many negative articles existed saying that Kryzyzewski was hurting Duke by taking the job.  Are you kidding me?  The guy wins a Gold medal and in the process becomes an even better coach.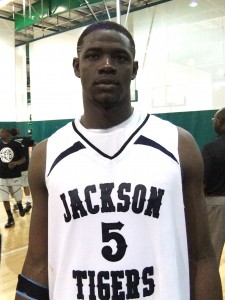 How attractive is this to kids knowing  that Krzyzewski talks on a regular basis with the likes of Kobe Bryant and LeBron James?   I mean, Kryzyzewski has proven he can mold the best our country has to offer into champions and this most certainly is a positive. in that he played a big role in putting USA basketball back on top.  A deep involvement in USA Basketball opens a lot of door and his contacts with NBA types along the way surely helps in learning from the games best.  In short, he can tell kids how Dwight Howard or the many other stars prepare and enlighten them on the little intangibles which could very well make them a better player.
Duke recruiting is also aided by the staff of Chris Collins, Nate James and Steve Wojciechowski [Wojo} form one of the best assistant coaching staffs in America and they can point to facilities akin to the best in the country as just one of the many selling points.  But they all come back to Coach in their spills and for good reason.
While interviewing Chris Collins going into the West Virginia game in Indianapolis I made the statement that I had not seen him look this fresh since in a decade.  Collins agreed with that statement and elaborated on it in an interview in BDN's archives and the very next day the man himself made the comment that he felt fresher than ever and Duke was finally getting some of the positive coverage it deserved.
It's hard to call Duke a rejuvenated program for they won more games in this decade than any other team, but rest assured some new approaches have worked wonders and it shouldn't be hard to see that Krzyzewski is firmly entrenched at Duke despite the silly if not ridiculous rumors that he was interested in the New Jersey Nets job which was more shoddy journalism.
Kryzyzewski is totally into his coaching these days and he is enjoying each and every challenge along the way.  The 2010 Duke team was special in many ways and their success is proof that Duke is still Duke and that they are always playing for the big prize .
And on the recruiting trail?  Duke is red hot and the proof of that will come soon enough when kids continue to want to play for a program that is family for life and one that is a proven winner on and off the court.  Negative recruiting and articles will continue but Duke forced the nation to take a deep look when the Blue Devils were in the national spotlight.  And they saw the truth, that the national champions were a tight knit group of great kids who showed the heart of their coach.  And none of them had their noses stuck up in the air as some would have you think.  They also saw the real Krzyzewski and the real program and the best thing of it all is that some media members may actually start to figure out that a team that helped gave CBS it's highest ratings in ten years is not so hated after all.
The proof is in the pudding and the ingredients formed a champion.
Follow Duke Basketball Recruiting by joining BDN Premium for full site access and continued updates from our experienced team of analyst.