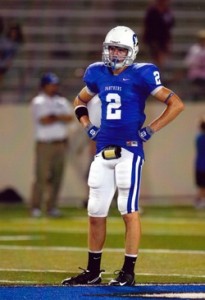 Kyler Brown is a 6'5" 215 pound junior out of Charlotte Christian High School in Charlotte, North Carolina. Duke football fans are familiar with the Brown family, as Kyler's older brother, Kelby, will be joining the Duke program as a freshman linebacker this fall.
In his junior year, Kyler played on both sides of the ball, lining up as a defensive end and also as a wide receiver. Most college programs are looking at Kyler as a defensive player, but his quickness makes him an intriguing prospect at several potential positions. On defense, Kyler's strengths are his ability to bring pressure off the sides and "use speed to attack the ball." He currently runs about a 4.80 second 40-yard dash, but continues to work on his strength, speed, and hands going into his senior year. Kyler believes that his ability to use his hands is one of his strengths on both the offensive and defensive sides of the ball. Off the field, Kyler describes himself as a "quiet guy," but on the field, he is an enthusiastic competitor and a great teammate. Coming off of a 2009 NCISAA 3A Championship, Kyler and his senior class hope to win a state championship of their own in 2010. Individually, Kyler said it would be "awesome to get All-State or All-Conference," but listed a state championship as his primary goal.
When approaching his college choice, Kyler is placing an emphasis on academics, as he knows that a college degree is a great "back-up plan if football doesn't work out." He's also looking for a program that will develop him as a player and allow him to build strong relationships with the coaching staff.
To date, Kyler has received scholarship offers from Duke, East Carolina, and Illinois. He has been in close contact with coaches from Stanford, Oregon, Virginia, North Carolina, NC State, West Virginia, Vanderbilt, and Wake Forest. He is hopeful to receive additional scholarship offers this spring, and he noted the possibility of an offer from Oregon coming soon.
During his brother's recruitment, Kyler was able to tour many top football programs around the country, but is now setting out on his own process. In the ACC, he's been impressed by all four in-state programs, having visited Duke, North Carolina, NC State, and Wake Forest. Kyler described all four programs as "getting better" with "good coaching staffs." He was impressed with North Carolina's preseason ranking and noted the winning tradition being built at Wake Forest.
Kyler is finalizing plans for summer camps and hopes to make a decision before the start of his senior season, but is not opposed to waiting until after the fall to make a decision, if necessary. After not receiving much playing time early in his high school career, Kyler had a breakout junior season; with strong summer workouts and a standout senior year, more offers may be on the way. Though some might believe Duke would have a natural advantage because of the opportunity to play alongside his brother, it sounds like Kyler is looking to make his own college choice. Kyler described Duke as definitely a "program on the rise," but he plans to evaluate all of his opportunities before making a commitment.