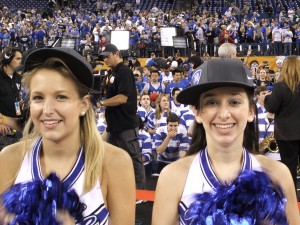 The Duke Blue Devils continue to reap the rewards of being crowned national champions.  The team will go to the White House to meet with President Obama soon and some of the players helped with the Jon Scheyer Foundation's May Madness Gaming event this past Saturday in Cameron Indoor Stadium.  Kryzyzewski and Duke's National Championship is the gift that keeps on giving in so many ways.
As you know by now, recruiting never stops and the men's basketball staff is mapping out their plans for the coming summer months.  The Duke staff are not allowed to attend events in May due to NCAA rules.  Speaking of rules, the NCAA will decide the future of camps soon, so stay tuned for that.  The consensus is that they will not allow events like The Tournament of Champions to be played on major college courts and or in venues.  This would drastically change the landscape and many of the current tournaments could soon be a thing of the past.
Speaking of events, BDN's Andrew Slater took in some action at the Spiece Field House event in Fort Wayne, Indiana this past weekend and he will soon be reporting on what he saw with interviews and a analysis for BDN Premium members.  The coverage will likely start some time tomorrow so check back in with BDN as we remain the most active Duke subscription site on the circuit.
For you recruitniks [not a real word butr appropriate]  it's also worth noting that Nike has already started to roll with changes in their camp sessions.  The most recent Boo Williams event was coined Nike EYBL Development camp and teams now play an even amount of games.  In the past, the teams played to meet in a championship game.  The verdict is still pending on whether or not people like the changes.
The Duke Football coaches have been out on the road as well and they'll now sit down to see which kids warrant an offer.  Duke most recently signed an interior lineman in
You may have noticed that BDN's Patrick Cacchio has been interviewing football prospects and he will continue to serve in that role.  He concentrated on the offensive line prospects the past couple of weeks and we'll switch gears to some skilled positions in the near future.  BDN is dedicated in covering Duke Football as many of you already know, but we've amped up our recruiting coverage and for now, all of the articles are free.  So, be sure to tell your friends that BDN is the place for football and we are certain our coverage of prospects will be just as good as our infamous basketball offerings.
I had a friend say the other day that he knew I had been busy going out on the road to cover an AAU event after following the team every step of the way to the national championship.   "You must be glad to have some free time now," he said.  I wish!  BDN stays busy all year round with recruiting and we constantly strive to come up with off season articles of interest.  We cover the Duke beat and more and by more we are the only subscription site to offer a ton of free articles to the Blue Devil Nation.  In short, check in often in the coming months or you'll be missing a lot.
You may have noticed a bit of slow coverage of late, well, we had a lot of our key people in transit on way or the other and every now and then I try to sneak a couple of days in.  The trouble with that is it never fails that something happens when I let my guard down, so not a lot of rest for the weary.
In closing this weeks Monday Musings, I want to thank the Blue Devil Nation for their support.  You guys make us constantly want to improve our coverage and we are always open to suggestions provided they are grounded in reality;)