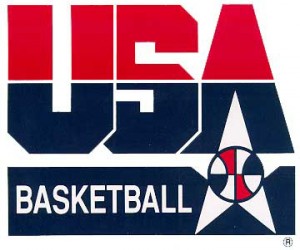 In a record-setting night, the USA U18 National Team (4-0) earned a berth in the gold medal game with a 122-89 semifinal victory over Canada (2-2) Tuesday night at the FIBA Americas U18 Championship for Men at Bill Greehey Arena in San Antonio, Texas.
"That's the goal and that's what we came here for," said USA and University of Oklahoma head coach Jeff Capel. "Not trying to sound conceited, but we expected to be in this position and this is what we've worked for. We've been together for three weeks and we've worked for this moment. Hopefully, we can come out and seize the opportunity tomorrow."
Austin Rivers (Winter Park H.S. / Winter Park, Fla.) poured in a game-high 35 points for the USA, shooting 12-of-18 from the field and sinking 9-of-12 in 3-point range, establishing new U.S. records at the U18 tournament. His 35 points broke the former record of 34 set by Calbert Cheaney versus Brazil in 1990, the first FIBA Americas U18 Championship. His nine 3-pointers made surpassed three different players who had previously sunk five 3-pointers in a single game, Aaron Brooks (2002), Terry Dehere (1990) and Steve Lepore (1998).
"Sometimes I just get in grooves where I hit a couple shots," said Rivers. "You feel like the basket's real wide. I know I hit a couple shots and then everything started going from there. After that it felt like any shot I threw up would go in, so it's kind of like a lot of adrenaline. It felt like I had ultimate energy. Everything was falling."
Additionally, the team set a new single-game record at this event with 14 made 3-point field goals, breaking the previous record that was set in 2002, and tied in 2008 and again in the USA's first contest this year.
"I thought we played well," added Capel. "We did a good job defensively early. I thought our guys respected Canada and we knew they were a very good team. We came out and jumped on them early. I thought we did it with our defense. One of the things was a huge key for us was (Kyle) Wiltjer. He's their leading scorer and we wanted to try to take him out of the game. We did a very, very good job of that. He was shooting about 68 percent from three coming into this game. One of our main goals was to not even let him get a 3-point attempt and our guys did a good job of following through on that."
The U.S. squad will meet also undefeated Brazil (4-0) for the gold medal at 7:00 p.m. (all times CDT) Wednesday. Brazil upended defending gold medalist Argentina (2-2) 70-56 in the other semifinal game. Argentina and Canada will play for the bronze medal at 5:00 p.m. All four teams earlier qualified for the 2011 U19 World Championships in Latvia.
With the win, the U.S. upped its overall record to 37-2 at this event, which is a qualifying tournament for the 2011 FIBA U19 World Championship, and has won four gold medals (1990, 1994, 1998, 2006), one silver medal (2008) and one bronze medal (2002) at the FIBA Americas U18 Championship.
Tony Mitchell (L.G. Pinkston H.S. / Dallas, Texas), who is headed to Missouri, added 13 points and a game-high nine rebounds. Kyrie Irving (St. Patrick's H.S. / Elizabeth, N.J.), a Duke signee, contributed 12 points and seven assists. Jereme Richmond (Waukegan H.S. / Waukegan, Ill.), who will play for Illinois next year, scored 11 points. Josh Hairston (Montrose Christian School (Md.) / Fredericksburg, Va.), a future Duke player, rounded out the double-figure players with 10 points.
The red, white and blue, which has trailed for a total of 1:24 through four games, led wire-to-wire against Canada. Appropriately, Rivers got the scoring started with a 3-pointer 52 seconds into the game. By the 3:33 mark the U.S. was up 22-2 and at 2:51 Canada scored its first field goal of the night.
"I love it. I love it," stated Capel on Rivers' performance. "It's just really neat to watch him go through that. Really, the best part about it was watching his teammates. Seeing how excited they are. These are some of his peers, some guys that are a little bit older than him, but just seeing how excited they were for him was really pretty neat."
Rivers tied the former U.S. 3-point record with his fifth trey to close the first quarter scoring and put the U.S. up 37-10. Less than two minutes into the second quarter, Rivers, who was perfect from beyond the arc in his first nine attempts, had the record with his sixth made three.
For complete coverage visit USABasketball.com