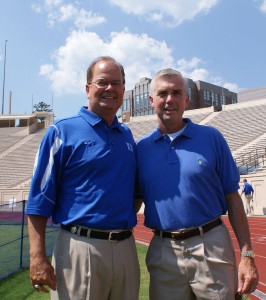 DURHAM, N.C. --
A Cut Above - Portrait of a Football Leader, a one-hour documentary featuring Duke head football coach David Cutcliffe, is scheduled to air on Fox Sports South five times this month beginning on Sunday, June 13 at 9 p.m.
The show also will air on June 18 (7 p.m.), 20 (5 p.m.), 23 (7 p.m.) and 27 (9 p.m.).
Produced by ISP Sports, A Cut Above - Portrait of a Football Leader, focuses on Cutcliffe's influence on others, personality and leadership style while including behind-the-scenes video footage of the Blue Devil head coach at practice, in the locker room, at home with his family and bass fishing with Hank Parker.  Topics covered include his roots in coaching, his training methods for elite quarterbacks, his bout with open heart surgery and his challenge in building Duke football into an annual contender.
Highlighting the documentary are interviews with former Cutcliffe quarterbacks Eli Manning, Todd Helton and Thaddeus Lewis, former NFL Pro Bowl quarterback Archie Manning, Duke Vice President and Director of Athletics Kevin White, current Duke players and coaches, family members, and country music artist Kenny Chesney.
Cutcliffe was named Duke's 21st head football coach on December 15, 2007.  He has guided Duke to nine wins in two seasons after the program registered 10 total victories in the previous eight campaigns.  A native of Birmingham, Ala., and a 1976 graduate of the University of Alabama, Cutcliffe spent 19 seasons (1982-98; 2006-07) as an assistant coach at Tennessee where he helped the Volunteers to a 173-54-7 record including 17 bowl games, four SEC championships and the 1998 national crown.  He also served as the head coach at Ole Miss and guided the Rebels to a 44-29 ledger with a 4-1 record in bowl games from 1998-04.
The recipient of the Frank Broyles Award as the nation's top assistant coach in 1998, Cutcliffe has coached two Super Bowl MVPs in Peyton and Eli Manning.  He was named the SEC Coach of the Year in 2003 after directing Ole Miss to a 10-3 record with a share of the league's Western Division championship and a 31-28 victory over Oklahoma State in the Cotton Bowl.  Under Cutcliffe, a total of eight quarterbacks have either earned all-conference honors or directed their respective school to a bowl game win: Andy Kelly (Tennessee), Heath Shuler (Tennessee), Peyton Manning (Tennessee), Tee Martin (Tennessee), Romaro Miller (Ole Miss), Eli Manning (Ole Miss), Erik Ainge (Tennessee) and Thaddeus Lewis (Duke).