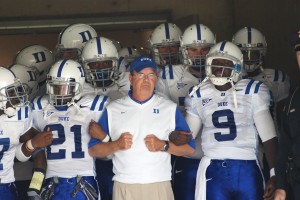 DURHAM, N.C. – Kick-off times for Duke's first three games were announced on Thursday in conjunction with the ACC's early-season television schedule.
The Blue Devils will open the year at home on September 4 against Elon at 7 p.m.  The game will be broadcast live on the internet at ESPN3.com.  In week two, Duke kicks off ACC action on the road at Wake Forest with a 12 noon game televised live by Raycom Sports.
Reigning national champion Alabama travels to Durham on September 18.  The game will begin at 3:30 p.m. and be televised live by ABC Sports.
Season tickets are available and may be purchased online at GoDuke.com/tickets or by calling the Duke Athletic Ticket Office at 1-877-375-DUKE (3853).