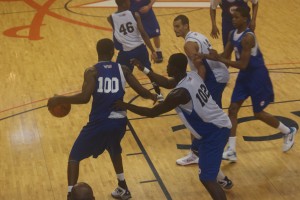 CHARLOTTESVILLE – BDN is on the scene at the NBAPA Top 100 player developmental camp in Charlottesville, Virginia and we're hear to cover all of the true Duke prospects and commitments.  We caught up with future Blue Devil Tyler Adams who is playing for a very talented Celtics team.  After a slow start where he committed two turnovers, Adams controlled the boards and showed off a slimmed down figure.
You had a bit of a slow start before really turning it on in your first game on the Celtics team.  What is it like to play against good competition in the NBAPA type setting?
It's good, pretty good.  You get to see how you stack up against players you'll play against in college.  I feel pretty comfortable.
You told me one time that "I love to bang," and that stuck with me and fans even mention that quote when talking about you.  You were getting  a little physical out there with some elbow posturing.  Do you feel like you have to establish yourself out there?
Yeah, yeah.  Especially a guy like me


Sorry, but you must become a premium subscriber to view the rest of this post.

Join now by visiting the PREMIUM MEMBERSHIP link at the top of the page, where you can learn more about the benefits of a Blue Devil Nation Premium membership.