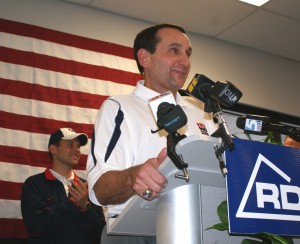 DURHAM - Still basking in the glow of Duke's fourth national championship, Coach K took to the podium on Monday for his annual summer press conference.  There was an unusually sparse media contingent as the USA and Duke coach entered the room yet it didn't seem to bother him one bit.  Krzyzewski was into his third sentence when you could hear a thundering herd of media clomp up the steps talking away as they descended upon the conference which had already started.
It turns out that they had trouble getting into Cameron and what were 7 members suddenly turned into about 27 press members.  In years past Coach Krzyzewski might have bristled at such a thing but not this time.  Krzyzewski joked away smiling and laughing off the tardiness and the fact that he was interrupted.  And just like the seemingly sparse turnout when he first entered the room, the situation didn't faze him in the least.
The reason is that Krzyzewski seems very comfortable in his skin these days and he is admittedly fresher than he's been in a long time.  Of course, coming off a national title would relax anyone but there is more to it than that alone.
Krzyzewski is at a point in his career where he is more focused than ever on the tasks at hand.  When he left for Beijing for the summer Olympics you could almost see the worry on his face in that it was his first go round in an attempt to gain Gold back for the Americans.
Being the ultimate patriot, Krzyzewski probably felt the weight of the world on his shoulders and long time rumors have him up late night getting little sleep while planning strategy or watching film.  His hard work certainly reaped a reward in that he returned USA Basketball to it's rightful place, that being the King of the Hill in world basketball.
Just this past season his team made a terrific run and won his fourth national championship and nobody saw it coming.  In fact, those infamous message boards where fan hordes gather were all up in arms when Harrison Barnes wound up at UNC after a long recruiting process where many felt Duke led.  Add to that, the transfer of Elliot Williams and Gerald Henderson leaving early to become a Charlotte Bobcat and I will say it again, nobody saw Duke coming. 
Losing Barnes was not easy for Krzyzewski formed what seemed like a great relationship with the nations top prospect.  But instead of wallowing in the disappointment which was great, he pulled up his trousers, rolled up his sleeves and started his quest to be the best and we all know that in the end, Duke was indeed the last team standing.
The loss of Williams wasn't expected either and his decision came at the midnight hour where there was little recourse or actions which could help fill his spot.  And those dastardly public message boards were full of worry from fans who thought it was all over for Duke Basketball and who would be their on ball defender?
Duke was suddenly considered painfully un-athletic, had no true point guard and they wouldn't be able to guard anyone with their vaunted yet seemingly injured man to man defense.  What was Krzyzewski to do?
Well, for one he does the same thing he always has and that is creating a team strategy according to his personnel.  Duke, as it turned out, was one of if not the best defensive team in the nation.  Of course there was to be a crowning achievement as well and that speaks to his ability to develop and push the right buttons of three fabulous seniors who have seen four years of his system.
Despite the fact that few questions were about Team USA during the press conference, Krzyzewwski was sitting up there probably  multi tasking away in his mind.  He had already talked to those in the professional ranks and had Jon Scheyer and Brian Zoubek set up with their choice of teams as he disclosed partial information on their futures.  At the same time he was likely going over a list in his head of participants for his latest version of Team USA.
But was Krzyzewski worrying aloud about the fact that key free agents and the likes of Kobe Bryant would not play?  Nope.  He was as cool about that as he was everything else.
Krzyzewski does a lot that goes unseen, part of his endless multi tasking.
During last summers AAU Nationals I was near Krzyzewski when a gentlemen came up in glee shaking his hand and thanking him profusely.  It turned out to be the father of Toney Douglas [now with the New York Knicks], the All ACC player from his opponent mind you, Florida State.
Krzyzewski had made some calls to his various NBA connections for a kid he came to respect from his efforts against the Blue Devils.  It didn't matter that he had no major ties to him and this is the kind of thing you will not hear about for he is not one to gloat, but it could be just a small sampling of the kind of things that has Krzyzewski so happy within himself these days.
Okay, that's is a story for another day and this is where I will  finally use a quote from the press conference and a partial one at that.  "I'm a coach, that's what I do," said Kryzewski.  Here is a man that seems to have a great and better than ever understanding of what he wants and he is quite comfortable with his life.
Krzyzewski would later briefly address the fact that people and some media types make ill willed statements and or write negative articles about the program and that most of it was based on little fact.  But he brushed it off as well saying he could not control the haters and they were going to say what they wanted.
I suppose it is obvious that I feel Krzyzewski is one happy camper these days and that he is relaxed, energized and more than willing to take on the role as the busiest coach this summer.  In the coming months he will attend some AAU events, travel to four countries with Team USA and keep tabs on his own team who will likely have the pressure of being pre season number one and he is okay with that pressure.  Heck he's okay with anything these days for he probably is one step ahead of us again as he always seems to be with concerns to his team.
Another question he was asked is how Duke would fare with a freshman point guard and he pretty much said have you seen Kyrie Irving?  Despite the loss of the great Jon Scheyer, once again, he was more than just a little okay for he has found that happy place in his life and he is doing what he loves, which is again coaching the nations finest talent.
Duke fans probably wish they could take a page out of the K-book and not be fazed by the eventual reality that Coach K will retire but we know how worrisome die hards can be.  But in my humble opinion that is not an immediate worry for it was evident in my eyes that Coach isn't going anywhere anytime soon for this is his home, his legacy and the ride is far from over.
[We will have more thoughts coming from the press conference and were going to put up the audio, but you can go to WRAL and watch the Q & A pretty much in it's entirety.] Take advantage of our trial offer and join BDN Premium for full site access and talk about this article on our private message boards.