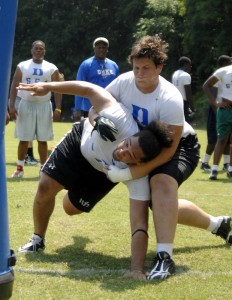 There were a few surprised faces on the kids and prospects who attended this past Saturday's Duke Football Camp.  It would be easy to think the scorching heat and humidity was the culprit, and yes sweat indeed played a role.  The sweat came from the crop of talent going through the various stations of drills being conducted by the football staff.  In short, the coaches worked their butts off and you could see the surprise in the faces of some of the prospects as the day wore on.
Coach Cutcliffe is always quick to tell you that he is looking for kids who can run and that was evident as he peered out from his golf cart, concentrating on a drill which not only tested speed but the cutting ability and reaction time.  As the day progressed, Cutcliffe would go from station to station while his competent staff barked out signals and suggestions.
If a prospect was caught walking to a station or back to the line after a drill they were quickly met with the sound of a coach telling them that their actions wouldn't cut it at Duke.  This in turn brought out the best in some of the kids while others learned quickly that Duke Football practices and conditioning is no joke.
The camp will continue this weekend and each year that Cutcliffe has been at Duke, the numbers of attendees swell.  Duke Football is being taken seriously in Durham and if you attend the camp as a participant or parent looking on, this is evident.
The Blue Devil Nation will be checking in with some of the prospects and their thoughts on the camp this week.  Among the prospects holding offers who attended this past weekend's session were Desmond Floyd [Union HS 6-4, DE], Cameron Clear [Memorial Central 6-6 TE], Marc Mustoe [Avada West HS, CO 6-6 OL], Kyler Kerbyson [Knoxville Catholic 6-4.5 DL], and Michael Cooper [Woodlands HS, TX 6-5 DE/TE].
Other offers have been tendered as well and you can learn of those on our premium message board which is for BDN Premium members.  Stay tuned for more on Duke Football Recruiting.