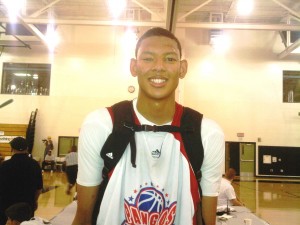 Isaiah Austin is a seven footer with touch range out to the three-point line and a real knack for blocking shots. His father, Alex, played professionally both in the US and abroad for a decade and now helps youths build confidence, teamwork, and discipline through his A-Train For Youth program. Austin's uncle, Ike, helped three different NBA teams reach the playoffs and won the NBA's Most Improved Player Award in 1997. Although he plays for Grace Prep in Arlington, Texas, Isaiah is a Los Angeles native, who plays for the Compton Magic during the AAU season. The rising junior and self-described straight-A student participated this past weekend at the Pangos All-American Camp in Long Beach, California and was selected to the Top 25 Cream of the Crop Game. With the dearth of quality big man and his own significant natural and refined talents, Isaiah will be one of the most coveted prospects in the country over the next two years. After the game, the extraordinarily polite young man spoke with Blue Devil Nation.
Let's start with recruiting. Who's coming after you?
The Big Twelve, some of the Pac-Ten and the ACC.
Do you still view this as early?
Yeah, it's real early. I'm not in any rush.
You played very well today.
Thank you.
Who do you try to model your game on?
My father
He was a very good college player and I know he played for a while in the pros, both here and overseas.
Yeah, he taught me how to post up, how to dribble, and how to play around the rim.
Will he be the person that you primarily seek guidance from, whenever you do decide upon



Sorry, but you must become a premium subscriber to view the rest of this post.

Join now by visiting the PREMIUM MEMBERSHIP link at the top of the page, where you can learn more about the benefits of a Blue Devil Nation Premium membership.