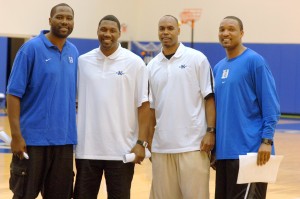 Good Monday Morning Blue Devil Nation!  I trust most of you put the hangover of the US teams soccer loss behind you by now.  I understand why so many nations talk of every little mistake and throw players under th.... what?  You don't like soccer?  Okay, okay, it's time for more Monday Musings.
The Duke Blue Devils are well represented in the FIBA America's tournament where incoming freshmen Josh Hairston and Kyrie Irving are donning the USA uniform.  Team USA destroyed Mexico 114-38 last evening where Kyrie Irving totaled 14 points to go with 6 rebounds and 4 assists in 15:49 of play.  His future teammate Josh Hairston chipped in with 11 points, 4 rebounds in 14:02.  Two key Duke prospects also contributed in the easy win.  Austin Rivers tossed in 16 points in 17:06 of play while Quincy Miller led the Americans in minutes with 25:00 which translated into 15 points and 6 rebounds.  Interestingly, Miller is rooming with Irving and Rivers.  It should be fun to watch this teams progress.
I'll be heading over to Duke for Coach Krzyzewski's annual summer address where he fields all kinds of questions from a media throng.  Be sure to check in later this afternoon for what Coach had to say.
After reading a pre season football magazine, I noticed that Wake Forest opens with Presbyterian on a Thursday evening.  The significance is that they once again find a way to get a few extra days of preparation before facing Duke at home on September 11th.  This is a key early ACC matchup for both squads.
Another thing I noticed is that Duke's schedule is once again one of the nation's toughest, ranked ninth in the country.  That made me wonder who scheduled the likes of Richmond and Elon instead of VPI and Western Carolina in season openers.  Elon is ranked between 2nd and 6th nationally in FCS pre season polls.
It appears that Duke's Jon Scheyer will get a shot to make the Washington Wizard's as he'll be playing summer league ball for them.  Still awaiting official word
Did you know that Duke lost just four players to injury last season?  That put them in a three way tie for the second least injuries in the nation folks!  The law of averages cannot possibly be as kind to the football devils this season, but we can certainly hope for the best.  With a lack of depth on the defensive front, staying healthy will be a key for that position.
On a more positive note, the Duke offensive line is showing signs of progress and is deeper than in years past.  With some key youngsters casting their lot with Duke of late, it's clear that Coach has this position looking up with a bright future ahead. 
Duke loses very little from this seasons projected offensive starters and that means that Duke fans will likely see steady offensive production on the field for this season and next.  The key for that to happen is quarterback play, but the Blue Devils have some good young depth at the position led by Sean Renfree. 
Anybody got any extras for Bama?
One last thing ... plenty of prospect interviews coming at BDN Premium and we're still running a one month trial period for those interested.  Join now and talk Duke Athletics on our most rational members only message board where you'll stay in the know.