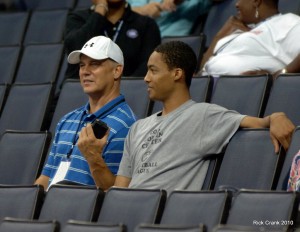 It's that time of year when many people are taking their vacations and enjoying the first day of summer.  As we have said before, many think this is a slow time of year for Duke Athletics, but think again.  Just this weekend we covered the NBAPA Top 100 Camp in Charlottesville from beginning to end to bring you the best coverage available.  Our members already have four interviews and camp updates to peruse with no less than 6 more interviews to come.
That's not all!  The Duke Football staff held the second leg of their camp this past weekend and as the dog days of July and August creep in, we'll concentrate on the hottest prospects that Cutcliffe and his staff are after.  Duke Football Recruiting is alive and well and they are pounding the trail to find kids to help take the program to new levels.  FWIW, we'll also take a look at proposed stadium and facility improvements in the near future and of course, we'll be front and center when football practice begins.  A long time ago, I pushed all Duke football fans to a particular forum and now we want all to know that BDN loves Duke Football and this is the place to be if you follow the program.
It looks like Glenn "Doc" Rivers may step down from the Celtics job to watch his sons play basketball and be home more often.  The word is that Doc will stay close to hoops through broadcasting and he has not officially made any decision as of this morning.  Of course, Duke is hot after his son Austin Rivers, a player you can read the latest on our premium message boards.
I was really impressed at how much Michael Gbinije improved on his game when I viewed him this weekend.  I have a new name for him, "G- Smooth," for he is a cool customer when on the hardwood.  Gbinije finished as the camps 6th best scorer and he by no means was looking for his shot everytime down the court as some where.  We have an interview up with Gbinije where he talks improvement and playing with Kyrie Irving and Josh Hairston during the USA U-18 team trials.
BDN will cover the N.C. Pro Am in force this year just as we've done every year since it's inception.  No Duke site has covered the event like we have and we will be there to bring you updates for thirsty Duke fans.  We look forward to seeing our Blue Devils on the court again and this year promises to be one of the best at this event which we'll talk more of as it gets closer to tip off.
Just a suggestion, but take time to realize how awesome the national championship was for the 2010 Duke Men's Basketball team.  These titles do not grow on trees, so wallow in the light all summer long for once next season tips off it is but a wonderful memory.  Just ask UNC fans how long the celebration can last and be sure and bask in the feel good vibes that have come from a fabulous feat.
Speaking or Kyrie Irving and Josh Hairston and the USA U-18 team, BDN will cover the teams efforts.  Word is that Kyrie Irving is everything people thought he might be.  Let's not forget Coach K and the big boys either!  Here is the Herald Sun's Bryan Strickland with a piece on  Coach K.
If you are sitting on the fence about joining our premium section, why not try out our one month special and see if it's for you.  We think you'll enjoy full site access as our off season coverage grows red hot as summer begins.