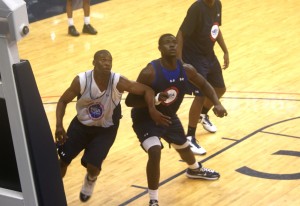 CHARLOTTESVILLE - One of the coaches and mentors at the NBAPA Top 100 Camp is former Blue Devil Chris Duhon.  We chatted with Duhon and you'll hear what he had to say early next week.  If you think he was taking it easy on the kids in drills think again.  He stuffed one camper as he went up for a jump shot to challenge the free agent.
Soon to be Blue Devil Tyler Adams again challenged all comers on the glass, grabbing 10 rebounds in one of the days games.  Adams was sporting a wrist support by tonight's game and he told BDN he sprained the wrist during the morning session.  The injury happened earlier this AAU season.  Adams intimidated [private] a couple of players into turnovers, but he needs work on his help defense.  One thing I loved was that it was Adams, the man in the middle talking to his teammates directing them to men on the defensive end.  In short, he knew where to be on the court.  Bottom line is that the Celtics only consistent player is Adams who went for 11 and 15 points on Friday.
Will the real Rodney Hood please stand up!  If you are a member of BDN Premium you may remember that Duke was once looking at the Mississippi native.  Hood seemingly regressed dropping in the rankings, but if his play during the NBAPA Camp is something he can repeat on a regular basis, then he is back and once again moving up in the rankings.  Hood told BDN that his list of schools were firm at around nine, but he said if the right team came in he'd open the door.  For what it's worth, Hood's dream school growing up was, you got it, Duke.
We checked out Rodney Purvis and secured an interview and I must say the 2013 prospect is as advertised.
And then there is Deuce Bello.  Wow!  This guy is good.  The first year I saw him he was but an athlete but he is know turning into a smarter basketball player that has a really solid handle and blow by speed.  Easily one of the tournaments best and most consistent players.  Bello is averaging 12.0 ppg.
A big guy that was calling for the ball today was named Marshall Plumlee.  The Duke prospect was more aggressive today and he once again drew several fouls.  Unlike last evening, he nailed his free throws today.  As we noted Plumlee will visit Virginia after the event where he will meet with Coach Bennett.  However, a good meeting took place with Coach K and Wojo recently and considering his brothers are at Duke, I kind of think he will opt that way in due time.  Plumlees scoring numbers from today were  6 and 2.
After a great start in the event, Amile Jefferson's game tailed off significantly on the offense in the early game
Man was I happy to see J.P. Tokoto get a few points in.  Tokoto started the game with two air balls and they were some kind of ugly ten to fifteen foot shots.  He finally got an easy one and then nailed one from the outside.  That means he is averaging a whopping 1.0 ppg good for 103rd in scoring.  He's a good player for sure but needs serious work on the offensive end of the court, especially with his outside game.  I really think he needs to play for his AAU teams 17 U team to get better.  Despite the rumors of a Carolina lean which may be true for him, his stepfather will not let him rush into a decision and this one will go on for a bit.
Then there is Kaleb Tarczewskiwho seems warm when talking of Duke.  Coach K gave him a call not long ago and Chris Collins started the ball rolling.  This 2012 kid is going to be a good center in college and he is not afraid to mix it up.  He blocked Cody Zellers shot so hard that he hit the floor.  He threw down two moster slams as well, but Zeller had his best game of the tournament scoring 20.  It was Tarczewski's teams first loss.
Then there was Michael Gbinije, the silent assassin who tossed in 16 and 15 points making him the camps 6th leading scorer. [/private]