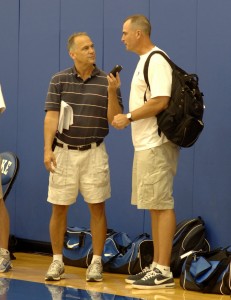 DURHAM- The Blue Devil Nation caught up with former Duke player and current ESPN analyst, Jay Bilas, to get his thoughts on the championship, what's ahead, and his love for his work.  We hope you enjoy the following interview -
This is Mark Watson of Blue Devil Nation joined by former Duke player and ESPN Analyst Jay Bilas.  So, what's it like to return to Duke and the Coach K Academy?
It's one of the best times of year for all of us because not only is it a fun and competitive atmosphere, but you get to meet the campers and you make a lot of good friends.  To be able to spend four or five days with guys you played with and guys from different eras makes it kind of a four or five day player reunion for us.  It's a luxury for us to be able to do that and most programs don't get that luxury.
You were part of the recruiting class that helped put Mike Kryzewski's program on the map.  Dawkins, Alarie and Henderson joined you and you guys were a part of the team that really turned the corner for the program.  What is it like to have been a part of that?
Well, you look back on it, it seems like this really big deal.  It was a big deal for us because it was us!  It was our team.  I don't think any of us imagined or thought people would think we were doing something for the program.  We were worried about us and what was coming after but it is really gratifying for all of us to see both the level of which the program has risen.  We kind of joke it's like buying Microsoft early.  You can see what was done after and we are really proud of not only Coach K and what he's done with the program, but the quality of the person that has been attracted to this place since.  We've made a ton of good friends and it's been a real blessing for all of us.  The decision we made to come here .. we've gotten so much more out of it than we put in to it.
Talk about this past seasons national championship for Duke.  Nobody really saw that coming and Duke kind of slid under the radar and that feat is a testament to togetherness and the will of the 2010 team.  Can you elaborate a bit more on that?
Well, I think you're right in that I don't think anybody saw it coming.  They weren't a favorite at the beginning of the year and I don't think they were a favorite at the end of the year going into the tournament.  I think if you picked three or four teams and said they were the likely favorites Duke wasn't there.  They were a number one seed so they were obviously respected, but when I saw their bracket I thought the only team that could beat Duke was Villanova, but then they got beat.  They had a good draw like a lot of teams did and they took advantage of that.  I thought the best thing about the team was how together they were ... they were obviously very talented with really good players but it was how close they were as a unit that was the deciding factor in why they won the championship.
You have a high profile job with ESPN and you obviously love what you do being a basketball analyst.  It seems like you're crossing over talking about the NBA Draft and such.  What does the future hold for Jay Bilas?  What are your aspirations from this point forward?
It sounds funny but I don't really have any aspirations.  I got into broadcasting because I love basketball and I've always looked at it that way.  I've never had a goal as far as a certain level to attain in the business because I don't consider myself a broadcast guy.  I consider myself a basketball guy who just happens to be doing the games and studio work, so ...  I enjoy each game I do and each year for it's own sake.  I haven't really looked at it as what's next or anything like that.  My Dad taught me years ago that if you want get a job then do the job you have, so I've always just concentrated on the job I've got.
In actuallity you've already achieved good things and I'm sure many would die to work with ESPN as a college basketball analyst.
Including me!  I mean, I'd trade place with me in a heartbeat.  I mean, I love my job, so I've never second guessed what I've chosen to do -- it fits for me.  I'm a lawyer in addition to this and if I ever say something stupid [smiling] on the air and get fired I have something I can fall back into my law practice..  I really enjoy doing this and love every minute of it.  I think I've attained a reputation for being fair and I like that.  I think I'm a hard worker but it doesn't seem like work to me and it's really fun for me. I think everybody's goal is to do something they love and I am doing something I like to do.
We've talked about nobody seeing Duke coming last season, but this season everybody is going to see them coming.  They may be the number one team in the pre-season!
I think they will be.  I think Duke, Purdue and Michigan State will be fighting for the number one position.  It's a nice thing to be thought of in that way, a nice reward, but I don't think Coach K and his staff will ever get fooled by that.  They're very good at evaluating who they are at every stage of the season.  So they'll know who they can be.  Each team is different and  next year's team will be different than this one and I think the first thing Coach K will present to them is that they are not the defending champions, so there is nothing to defend and that they need to pursue the next one.
Jay, as always, thank you for your time.
Thank you!