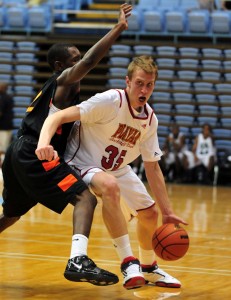 What a great time to be a Duke fan, huh?  Kickoff to football is two months away and we can still wallow in the joy of a national championship as the summer moves on.  It's getting warm this time of year and that means BDN Premium will be red hot in the coming months.  We brought you the latest from Quincy Miller today and have Deuce Bello coming by evening.
But that is only the start folks!  Our resident recruiting analyst Andrew Slater will be on the road this week to cover both the Adidas event in Indianapolis and the LeBron James Skills Academy in Akron, Ohio.  I'm pretty sure no other sites place the focus we do on true Duke prospects at these events.  I will be heading to the Peach Jam the following week, so rest assured, BDN Premium  is the place to be for updates, interviews and analogy being issued daily.
While Andrew takes in the measurements and skills drills at LeBron James camp in just a few hours, I will prep for more NC Pro Am coverage tomorrow all of which remains in the free section.  BDN has long supported and covered the event and has proven this is the place to be in July time and time again.  We hope to get our football coverage going again as well making this undoubtedly the busiest time of the year for us.  Coach Cutcliffe and his staff's recruiting class is really starting to take shape and we want to share that with the nation.
Be sure and take advantage of the special trial offer or go ahead and save money by joining Blue Devil Nation Premium for a year so you will not miss any of the action or updates.   Our private message board is but one of the perks for members where they can discuss the matters at hand in a tame and professional environment. 
We work hard at BDN to cover all things Duke Athletics and we think you will see that dedication whether you remain a visitor for our free offerings  or you decide to join our subscription section where you will surely be in the know.  We think there is a difference in site coverage and issue and we cordially invite you to see  that for yourself.
Later this evening, we'll release our infamous recruiting and team update and our members will tell you it is not something you want to miss. And we have recruiting analyst Brick Oettinger's thoughts on Duke prospects coming this week as well.  Be sure to check out our archives if you join where you will also find guru's Tom Konchalski'sthoughts on prospects as well.  In fact, it is easy to find all of our updates and player interviews which allows you to catch up.  Go back and see how far ahead of the curve we were on things just now coming to fruition or just wait for the numerous updates which will flood our premium section in the coming days.
We would love to have you join us, so please consider our offer and judge BDN Premium for yourself.  We are passionate and dedicated to the best possible coverage and we are confident you will like what you see.  Thanks for reading what is essentially an ad, but one only designed to tell you how exciting a time this is behind the scenes at BDN.  Go Duke and thank you for making up the Blue Devil Nation
Follow BDN on our BlueDevilNation twitter site and Facebook  for camp and Duke related updates.