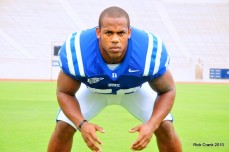 While many have pointed to Duke's rushing attack or the installment of a new quarterback as the key to Duke's 2010 season, it was the opposite side of the ball that had the head coach's attention this spring. "I'm concerned about our depth on defense," Head Coach David Cutcliffe said after the spring game, "I'm concerned about our front, to be real honest with you, coming out of spring practice, but we're going to be a very multi-front, multi-schematic defensive team."
In 2009, the defense forced a total of 18 turnovers (T-9th in ACC) and totaled 19 sacks (11th in ACC). Both of these totals were significantly down from Coach Cutcliffe's inaugural season in Durham in 2008, when the Blue Devils forced 26 turnovers and totaled 27 sacks. In 2009, Duke finished last in the ACC in third down defense, allowing opponents to convert on 45% of third downs. If Duke hopes to reach its first bowl game since 1994 in 2010, the defense will need to improve upon these numbers.
Led by new defensive coordinator Marion Hobby, the staff hopes that a new approach with an emphasis on speed will translate into more big plays and takeaways by the defense. "What we're switching to is 'multicality," said Coach Cutcliffe at the ACC media day, "We've been so pure 4-3, so we're going to be in a lot of personnel groupings…We had a lot of fun watching it in the spring. It really puts a premium on speed. We're going to put a lot of speed on the field."
It's no secret that Duke is thin along the defensive front, having lost starters Vince Oghobaase and Ayanga Okpokoworuk to graduation and the dismissal of freshmen John Drew and Brandon Putnam. To compensate, the defensive coaching staff, led by Hobby, Jim Collins, Jim Knowles, and Derek Jones, will employ multiple defensive sets, including a 3-4 scheme, as suggested by the preseason depth chart and Coach Cutcliffe's comments.
The new defensive schemes will be anchored on the ends up front by redshirt seniors Wes Oglesby and Patrick Egboh, with redshirt junior Charlie Hatcher at nose guard. In their 52 collective starts, this starting line has produced only 7 sacks, 26.5 tackles for loss, and 3 fumble recoveries: numbers they hope to add to in 2010. The Blue Devils will have talented underclassmen behind them on the depth chart in redshirt sophomore Kenny Anunike, who switched to DE from TE this spring; redshirt-sophomore NG Curtis Hazelton; redshirt freshman DE Sydney Sarmiento; and redshirt freshman DE Justin Foxx. It remains to be seen whether any of Duke's true freshman lineman (Jamal Bruce, Will Bryant, Jordan DeWalt-Ondijo, Steven Ingram, Dezmond Johnson, and Jamal Wallace) are ready to make significant contributions in 2010, and a few have stood out in early practices.
With a lack of experienced depth along the defensive line, the Blue Devils will need help from a deep and talented linebacking corps to bring effective pressure. Duke will feature sets with three linebackers and a new "Devil" position, which will likely contain elements of both linebacker and safety. Heading into fall camp, Duke projects to start three seniors in Damian Thornton, Abraham Kromah, and Adam Banks, who will man the "Devil" position. These three seniors have combined for 20 career starts, 175 tackles, 10.5 tackles for loss, and 2 fumble recoveries. The seniors have earned Coach Cutcliffe's praise early in camp: "Those guys have done a great job…they're veterans, they care, they're committed; it all starts with that, and they certainly know what to do." Redshirt freshmen Kevin Rojas and August Campbell, along with sophomores Austin Gamble and Tyree Glover, are also likely to see significant playing time in 2010. Even without recent standouts Michael Tauilili and Vincent Rey, this may be the most talented collective group of linebackers during the Cutcliffe era. "The good part is, I think we can play two deep [at linebacker]," Cutcliffe recently said. "I'm looking at [Kevin] Rojas, [Austin] Gamble, [Tyree] Glover, and Auggie Campbell – that's a pretty good group." Duke has some fast and heavy hitters at linebacker, and they will need to assist the defensive front in bringing pressure against opposing offenses. While Kromah may be the vocal leader on the field, Thornton is a player to watch, as he set offseason Duke linebacker lifting records at bench press (475) and power clean (363), and has impressed in early fall practice.
The Duke secondary should be improved from a year ago, despite the departure of All-ACC performer Leon Wright. Led by redshirt senior Chris Rwabukamba and junior Matt Daniels, Duke will have many potential playmakers at safety and cornerback in 2010. After finishing last in the ACC in 2009 in interceptions and third down defense, the secondary will need to drastically improve its pass coverage, particularly on crucial third down plays. Junior Johnny Williams joins the secondary this year after playing two years at wide receiver, and has earned high praise from Coach Cutcliffe for his transition. "Johnny Williams had a terrific night," Cutcliffe recently remarked in regard to the second fall practice, "he was the best I've seen him to date, and a primary reason is that his conditioning level is the best since he's been here." Williams is challenging redshirt freshman Ross Cockrell for the starting job at left cornerback, and will also likely see playing time on special teams and offense. Sophomore Zach Greene, who played in all 12 games in 2009 as a true freshman, and redshirt freshman Lex Butler will back up Rwabukamba at right cornerback. Duke is also deep at safety, where junior Lee Butler and Daniels are expected to start, but will be pushed by redshirt sophomore Jordan Byas, sophomore Walt Canty, and redshirt freshman Anthony Young-Wiseman.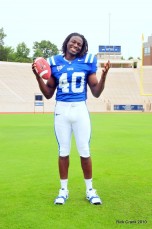 The aggressive approach on defense was especially evident during Duke's early morning practice on Thursday, as the offense was stopped on all 6 possessions during the 2 minute drills. Key defensive plays during Thursday's drills included a sack for Thornton, two sacks for freshman Jamal Bruce, fumble recoveries by Canty and Glover, and interceptions by Rwabukamba, Cockrell, and Byas. After practice, Coach Cutcliffe offered this assessment: "I think the thing that happened was the defense got on a roll today and I think our secondary is whipping our receivers pretty consistently. I think our pressure got to our offense today." Given the strength of Duke's receiving corps, the dominance by the secondary so far in practice is a positive indicator for the season. Turnovers will continue to be a point of emphasis for the defense as Duke prepares for the season opener against Elon on September 4.
Looking ahead in 2010, the Blue Devils will face two prolific running offenses in Alabama and Virginia Tech, along with four option-style offenses in Wake Forest, Army, Navy, and Georgia Tech. With a thin defensive front, the ability of the linebackers and secondary to make plays in the offensive backfield may determine several wins and losses for the Blue Devils. The defense will also have to do a better job this year of forcing punts and turnovers, providing the offense with a shorter field. If Duke's new defensive schemes are able to consistently put pressure on opposing quarterbacks, it ultimately may be the defense that carries Duke to a 2010 bowl game.