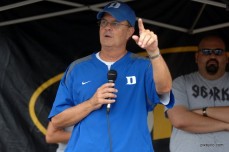 DURHAM - The Duke Football team held their annual Meet the Blue Devils Day Saturday afternoon in Wallace Wade Stadium as fans turned out to get an up close and personal  look at this years team.  After a two hour practice the Duke players gathered on the Wade concourse to sign 2010 posters for fans.
Despite a 4:00 start fans started arriving as early as 2:45 to catch the action possibly because last years event was canceled due to a the swine flu breakout.  Local radio stations were there for the event and as always posters ans schedule magnets were free of charge.
After Cutcliffe addressed the media below, the third year coach headed up top where he addressed the crowd calling the 2000 plus who were there family.  Cutcliffe is serious too in that all you have to do is want to be a part of football to be accepted.
The hardcore fans in attendance took advantage of opportunities to take photos and talk with current players who also enjoyed the event.  But is was one Cutcliffe statement top the crowd which stood out the most.  "It's personal now," said Cutcliffe in a serious tone meaning that his staff and team would work until they get to where they want to be, doubters be darned.
It's clear to see that the football team is more organized than ever which is a testament to a fine staff and the Blue Devils continue to recruit better players than in years past.  And if you want to support this group of hard working young men, then come on out and join in next years festivities for you will surely be welcomed.
But most of you probably do not want to wait until then, so turn out in force for the home opener against Elon to show your support for all the hard work and dedication this group is putting forth.  Season tickets are now sold out but individual tickets remain for all but the Alabama game but keep your hopes up for there is the possibility that they may bring in additional bleachers at the top of Wallace Wade for that game.
We will have a photo gallery up shortly from Meet the Blue Devils Day and interviews with Coach Cutcliffe, Conner Vernon and Duke's Durham Hillside connection, Corey Gattis and Desmond Scott.  Bookmark BDN now for coverage of the Duke Football beat.