VENICE BEACH –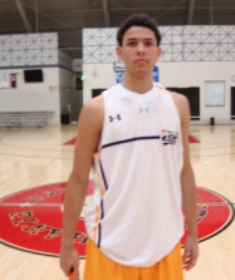 Highly sought after rising senior, Austin Rivers, was recently ranked as the #1 prospect in the 2011 class by Rivals. After having a busy summer playing for USA Basketball, and bringing home the gold, the rising senior gets a chance to end his summer with a bit of fun out in Venice Beach, California. Austin took some time after the Midnight run to talk with BDN and here's what he had to say.
We've got Austin Rivers here at the Elite 24 Midnight Run. First off, congratulations on being invited to the Elite 24 for your second year in a row, that's a big accomplishment. Last year, you were out at Rucker Park; this year, you head out to the West Coast for Venice Beach.
Thanks man, appreciate it.
Now, you've been playing AAU for a few years now, do you find at events like this that you bond with players? And have you been hanging out with anyone particular over the summer?
Definitely. I think being with the best players in the country just hangin' out with them you get to bond with them and create relationships with people you'd never get to meet. I've become best friends with Myck Kabongo, he's one of my real good friends, Brad Beal, Quincy Miller, Quinn Cook, all of the guys out here. I've became friends with


Sorry, but you must become a premium subscriber to view the rest of this post.

Join now by visiting the PREMIUM MEMBERSHIP link at the top of the page, where you can learn more about the benefits of a Blue Devil Nation Premium membership.