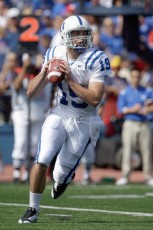 After 9 wins in his first two seasons at Duke, Coach David Cutcliffe and the 2010 Blue Devils will look to become bowl-eligible for the first time since 1994. Do they have the schedule to do it? As training camp kicks off, BDN takes a quick look at the 2010 Duke football schedule. The Blue Devils return 40 letterman, including 18 starters, from 2009's 5-7 team, which finished in 4th place in the ACC Coastal Division. Season tickets are on-sale now for Duke's 7 home games in 2010 and can be purchased online at www.goduke.com or by calling (877) 375-3853.
The 2010 Blue Devils will play 7 of their 12 regular season games at Wallace Wade Stadium, highlighted by a September matchup with Coach David Cutclife's alma mater and reigning BCS National Champion, Alabama. Seven of Duke's 2010 opponents were bowl-eligible in 2009, including two BCS bowl teams in Georgia Tech and Alabama. Duke's lone FCS opponent, Elon, finished the season at 9-3 and was invited to the FCS playoffs, where they lost to Richmond, 16-13. Overall, Duke's 2010 opponents were 94-60 in 2009, which represents the third toughest 2010 schedule in the ACC.
Week 1: September 4
Elon (2009: 9-3, 2nd place in Southern Conference, lost in 1st round of FCS playoffs to Richmond, 16-13)
The Phoenix will make the short trip up I-85 to Durham to kick-off the 2010 season. Elon is coming off the program's first ever FCS playoff invitation in 2009, in head coach Pete Lembo's fourth year with the program. The Phoenix finished 2009 ranked in the FCS top 10, but lose several key players from the team that finished second in the Southern Conference, including WR Terrell Hudgins, who was runner-up for the Walter Payton Award in his outstanding senior campaign (123 receptions, 1633 yards). Scott Riddle returns for his senior year as the team's quarterback, but the team lost junior RB Jamal Shuman to injury after an impressive sophomore campaign during which he averaged 5.1 yards per carry. The Phoenix do lose several key seniors on both the offensive and defensive lines, so question marks will exist heading into the season opener. Elon fell at Wake Forest last season, 35-7, in the team's only game against a FBS opponent. Elon represents a quality FCS opponent, and one that the Devils will need to defeat to start off the 2010 season on the right track.
Week 2: September 11
@ Wake Forest (2009: 5-7, 3-5 ACC)
Duke kicks off the 2010 ACC schedule early, with a rematch of last year's season finale against Wake Forest. The Demon Deacons defeated the Blue Devils on Senior Day in Wallace Wade Stadium, 45-34. While that game served as a celebration of the historic careers of senior QBs Thaddeus Lewis and Riley Skinner, this year, both programs will start the season with inexperience under center. The Demon Deacons lose 9 starters and return 49 lettermen from the 2009 team. Both the Devils and Demon Deacons will kick off the year against FCS programs in week 1, and thus this matchup will likely be the first true test for their new signal-callers and other new faces in 2010. Jim Grobe is 9-0 against Duke in his career at Wake Forest, though the two teams have produced some memorable games in recent years. The Demon Deacons will likely employ a more conservative, run-heavy offense than in recent years, featuring senior RB Josh Adams. Expect Grobe to have his team ready to play the Blue Devils after their opening Thursday night match-up with Presbyterian. This will be an important early season test for the young Blue Devils on the road.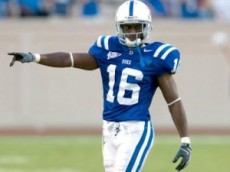 Week 3: September 18
Alabama (2009: 14-0, 8-0 SEC, BCS National Champion)
This game may already be the hottest ticket in Wallace Wade Stadium since the Rolling Stones a few years ago. The Crimson Tide faithful will be out in full force to see their reigning National Champions and Heisman trophy winner. It's important for the Blue Devils to have a good turnout both on and off the field in this one (plug: get your tickets now), as this will be one of the highest attended and most covered games in recent Duke history. Alabama will of course be the heavy favorite in this matchup, but you can bet Coach David Cutcliffe will have a few tricks up his sleeve for his alma mater and SEC power. The Crimson Tide will be coming off a big home game against Penn State in Week 2, and they'll have to avoid a letdown against a fired up Duke team. There are several terrific storylines here: from Wallace Wade, whose statue stands outside the stadium at both Duke and Alabama, to David Cutcliffe squaring off with his alma mater, to the appearance of a reigning national champion and Heisman trophy winner in Wallace Wade Stadium. Duke is 0-10 all-time against the #1 ranked team, and is 3-8 all-time against the reigning national champion, with their last win coming in 1955 at Ohio State. You can be sure BDN will have lots more coverage on this game between now and September 18, so stay tuned and get your tickets now.
Week 4: September 25
Army (2009: 5-7)
Army fell just short of a bowl bid in their first year under head coach Rich Ellerson and his option offense. In a week 2 matchup at West Point last season, Duke defeated Army 35-19, behind the arm of QB Sean Renfree and the clutch play of CB Leon Wright. This will be the first of three matchups against the option offense for Duke in 2010, and it will be an important game for the young Blue Devils to stay disciplined and focused after a much-hyped Alabama game. This is a game that Duke will need to win to improve their chance for a bowl bid, but Army will have revenge on their mind after last year's loss at West Point, and likely will have some momentum coming off two home games in Weeks 2 and 3. This will also serve as Duke's Homecoming game in 2010.
Week 5: October 2
@ Maryland (2009: 2-10, 1-7 ACC)
Not much went right for the Terrapins in 2009, including a 17-13 loss in rainy Wallace Wade Stadium in late October. Coach Ralph Friedgen will be on the hot seat in 2010, and while a return to bowl eligibility might be a stretch for the 2010 Terrapins, you can expect them to be a much improved team. The Terrapins will have a new signal caller in 2010, along with some new faces on both the offensive and defensive lines. The growth of these young players may determine the Terrapins' success, and the fate of the coaching staff. The Terps are fortunate to have a relatively easy start to their schedule, with a road matchup at West Virginia in week 3 as their biggest early-season test. This will be the Blue Devils first trip to College Park under Coach David Cutcliffe, and as we know, they will not be greeted kindly.
Week 6: October 9
Open
The Blue Devils open date again falls in the middle of their season in 2010. They will have already played 2 ACC games in the first five weeks, both on the road. With regards to bowl eligibility, the Blue Devils would be wise to enter the bye week with at least a 3-2, if not 4-1 record. The first half of the schedule includes only 1 FBS 2009 Bowl team (albeit, the National Champions), but the second half includes 6 FBS 2009 Bowl teams. The Blue Devils will finish the year with 4 ACC home games, 2 ACC road games, and a non-conference road matchup with Navy.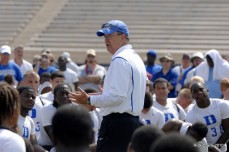 Week 7: October 16
Miami (2009: 9-4, 5-3 ACC)
Playing one of the toughest schedules in the ACC and the country, including 4 straight games against ranked opponents to open the season, the Hurricanes finished the year at 9-4 overall, capped by a 20-14 Citrus Bowl loss to Wisconsin. For the second straight year, the Blue Devils gave the Hurricanes a scare, taking a 16-13 lead into the 4th quarter, but surrendered three unanswered 4th quarter touchdowns to fall 34-16 at Sun Life (Land Shark) Stadium. In 2010, Miami will have to replace three starters on the offensive line and will again take on a challenging schedule, including two Thursday night non-conference matchups in September at Ohio State and at Pittsburgh. QB Jacory Harris will return for his junior year and should be fully recovered from off-season surgery to fix the injured thumb that bothered him late in 2009. Miami is loaded with athletes on both sides of the ball, but their performance has been inconsistent in recent years. The keys for the 2010 Hurricanes will be the development of the offensive line and consistency in the running game; Harris alone is capable of making big plays and is poised for a potential Heisman campaign, but he needs help from RB Graig Cooper and RB Damien Berry for the Hurricanes to compete for an ACC championship. Miami hosts Florida State in a big rivalry game at home in Week 6, while Duke has a bye. With two weeks to prepare, expect the Blue Devils to challenge Miami yet again in this matchup.
Week 8: October 23
@Virginia Tech (2009: 10-3, 6-2 ACC)
Trips to Blacksburg are rarely much fun for ACC teams, and the Blue Devils are no exception, having never won a game at Lane Stadium. The Hokies have won 9 straight meetings between the two schools overall, including last year's 34-26 win in Durham. Virginia Tech will feature a talented offense in 2010, led by QB Tyrod Taylor and two 1,000 yard rushers in RB Ryan Williams and RB Darren Evans, who returns after missing all of 2009 with an ACL tear. In a change from recent Hokie teams under head coach Frank Beamer and defensive coordinator Bud Foster, the offense may have to lead the way behind their senior QB, as the Hokies will be replacing six starters on defense, including 3 out of 4 spots on the defensive line. Duke will travel to Blacksburg as part of the Hokies' four-game mid-season homestand, which starts with relatively easy matchups against Central Michigan and Wake Forest. The final game in the homestand will be a Week 9 rematch with 2009 ACC Champion Georgia Tech, and the Hokies might be tempted to look ahead. The Blue Devils' new defensive schemes will have to slow the Hokies' rushing attack if they want any chance to escape Blacksburg with an upset win.
Week 9: October 30
@Navy (2009: 10-4)
Navy is a team that is flying under the radar heading into 2010 after a 10-win season in 2009, which was capped by a 35-13 drumming of Missouri in the Texas Bowl. The Midshipmen return 15 starters in 2010, including senior QB Ricky Dobbs, who both threw and rushed for over 1,000 yards in 2009. This will be Duke's second of three tests against the option offense in 2010. In their last meeting at Wallace Wade Stadium in 2008, the Blue Devils defeated the Midshipmen, 41-31, behind three touchdowns from Thad Lewis and Eron Riley. The 2010 matchup will be televised by CBS College Sports Network and will serve as Navy's homecoming game in Annapolis. Navy's 2010 schedule features three games against ACC opponents, with a trip to College Park scheduled for Week 1 and a trip to Winston-Salem in Week 6. The Blue Devils will travel to Annapolis a week following Navy's nationally-televised (on CBS) matchup with Notre Dame at the New Giants Stadium in East Rutherford, NJ. This game comes at a key stretch in the Blue Devils' season and a win would significantly improve their chances for postseason eligibility.
Week 10: November 6
Virginia (2009: 3-9, 2-6 ACC)
After two straight wins against the Cavaliers, the Blue Devils were sad to see Al Groh leave, and may be even more disappointed to see former Richmond coach Mike London on the sideline. However, after a disappointing 2009 that resulted in the dismissal of Al Groh, the Cavaliers have even more question marks in 2010, thanks to the departures of key players and the arrival of an entirely new staff. Virginia loses their top four rushers from 2009 in Jameel Sewell, Vic Hall, Mikell Simpson, and Rashawn Jackson. Marc Verica is the only returning quarterback with experience. With the new staff, there is new energy in the program, and the Cavaliers have several key returners on the offensive and defensive lines, so there is a foundation to build upon. Their schedule won't do them any favors, however, with a potentially awkward season-opener against Richmond and a Week 2 cross-country trip to Pasadena to face Lane Kiffin and the much-maligned Trojans. As the season progresses, the development of the many new faces, especially at the skill positions, will likely determine Virginia's success in Mike London's first season. The Blue Devils will need to continue to assert their dominance over the new-look Cavaliers if they hope to climb in the ACC Coastal Division standings.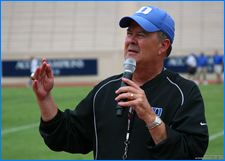 Week 11: November 13
Boston College (2009: 8-5, 5-3 ACC)
Duke will face an unfamiliar foe in Week 11, as Boston College makes a rare trip to Wallace Wade Stadium. In fact, the two programs have faced each other just four times overall (1927, 1928, 1929, 2006), with the Eagles holding a 3-1 series advantage. Thanks to the unbalanced ACC schedule, the Blue Devils and Eagles last met all the way back in 2006 in Chesnut Hill, with Boston College claiming a 28-7 victory. Both programs have since gone through coaching and roster changes, so it will be a new test for both teams. 2008 ACC Defensive Player of the Year Mark Herzlich will make his inspirational return to the 2010 Eagles, after missing 2009 with Ewing's Sarcoma. If Herzlich can return to his 2008 form and lead this defense, the Eagles will compete for their third Atlantic Division title in four years. The Eagles overachieved under Frank Spaziani in 2009, and with most of the team returning, including 26-year old sophomore QB Dave Shinskie, they will be a tough test for the young Blue Devils.
Week 12: November 20
@Georgia Tech (2009: 11-3, 7-1 ACC)
After a two-game homestand, the Blue Devils will make the trip to Atlanta to face the defending ACC Champions at Bobby Dodd Stadium. Coach Paul Johnson will have his work cut out for him as he and the Yellow Jackets prepare to defend their title in 2010. Georgia Tech will have to replace their leading rusher, leading receiver, and top two defenders in Jonathan Dwyer, Demaryius Thomas, Derrick Morgan, and Morgan Burnett. On the offensive side, they do return All-ACC QB Josh Nesbitt, and B-Back Anthony Allen (and his 9.7 yards per carry in 2009). They'll likely need to replace three starters on their offensive line, and have to find a big-play receiver to replace Thomas to keep opposing defenses honest. The biggest changes, however, will occur on defense, where former Virginia head coach Al Groh takes over as coordinator and will switch the Jackets from a 4-3 to 3-4 scheme. The defense will need to make the transition smoothly to allow the Ramblin' Wreck option-attack to control the game. In recent matchups, including last year's 49-10 defeat, Duke has failed to match the physical play of the Georgia Tech linemen; this will be Duke's third test against the option-style offense, and it will be important for Duke's new-look defense to match the speed and strength of the Yellow Jackets this year.
Week 13: November 27
North Carolina (2009: 8-5, 4-4 ACC)
This rivalry matchup returns to its traditional spot on the schedule, as the Blue Devils will close out the 2010 regular season with the Tar Heels in Durham. Though the Tar Heels have dominated the series in recent years, the rivalry has still provided memorable games, including last year's 19-6 loss in Chapel Hill. The Blue Devils and Tar Heels traded field goals through the first three quarters, with North Carolina taking a 9-6 lead into the 4th quarter. The Tar Heel defense and strong running of Ryan Houston were too much for Thad Lewis and the Blue Devils to overcome, as they failed to find the end zone, finishing just 2/13 on third downs, and gave up a total of 192 rushing yards to North Carolina. The 2010 Tar Heels will again feature one of the nation's top defenses, regardless of the outcome of the NCAA investigation. The biggest questions will be on the offensive side of the ball, where the Tar Heels will need to score points more consistently to compete for an ACC Championship. Tyler Yates will enter the spring as the starting QB, but if he struggles, redshirt freshman Bryn Renner may be given an opportunity. The Tar Heels will also need to replace two starters on the offensive line in front of Yates and RBs Ryan Houston and Shaun Draughn. The Tar Heels will play one of the toughest overall schedules in the ACC in 2010, and there is a good chance that the winner of this heated rivalry could secure both the Victory Bell and a bowl bid.