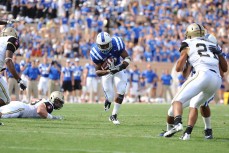 It was one of those days for the Duke Football team this Saturday, one which the team, coaches and fans want to move on from as soon as possible.  BDN takes a look at yesterday's 35-21 loss to Army and we share some idle thoughts.
You cannot turn the ball over and win
Texas turned the ball over against UCLA yesterday and that helped the Bruins shock the nations fourth ranked team in their own backyard.  Duke turned the ball over five times to Army losing two of two fumbles and throwing three interceptions which all led to scores.   To make matters worse, Army lost three fumbles and recovered each and every one. The bottom line is that you simply cannot win the game shooting yourself in the foot with critical turnovers while the other team does the opposite.  "We have to play mistake free football to compete or win," said Duke Coach David Cutcliffe," and he's absolutely right about that. 
Growing pains for Sean Renfree
That early Army interception of Sean Renfree set up a quick 7-0 deficit for the Blue Devils and a hole they would never recover from.    It was a harbinger of things to come as Renfree had two more interceptions.  It took the second half before he found wideouts besides Conner Vernon and that was the first time we'd seen that kind of performance from him.   Chalk it up as his first tough lesson and remember he is not Thaddeus Lewis who started for four seasons and is now with the St. Louis Rams.  Renfree will learn on the go this season but there are few who doubts his abilities.
Youth is served
You could still mistake Duke freshman Kelby Brown as a high school student and many of the post game media had to ask him who he was.  Brown led the team with six solo tackles and he was in on four assists.  The Duke linebacker showed off what fans can look forward to in the future.  Brown was originally scheduled to redshirt in his first season but has been forced into action.  Leaving the post game press conference I spoke briefly to his parents asking his Dad if he thought the experience of playing as a freshman would lead to future leadership.  We'll have more on that this week. 
Who will step up on the defense?
The Duke defense has struggled early on yet showed better against Army.  One of these kids needs to take on a leadership role.  In short, Duke needs playmakers, guys who create their own breaks.  Duke is sorely missing the big O's on the defensive line, Vinnie Rey behind them and Leon Wright. 
The talked about punt
Duke elected to punt the ball with just under ten minutes to go in the fourth quarter, down 35-21.  It brought about a for the first time, a few boo birds and I pondered the choice myself.  But then you have to think about the fact that the defense had actually played it's best game of the season and that they had to deal with the five aforementioned turnovers and a short field all day long.  Add to that the fact that Duke was struggling moving the ball and Renfree had just thrown three incompletions.  Mix the ingredients and I think Cutcliffe made the right choice.  Had Duke failed to pick up a first down, the Duke defenders who were on the field all day from the lack of offensive continuity would have suffered again and why break that units confidence? 
Next up Maryland
This isn't an ideal match up for Duke in that Coach Friedgen is fighting to keep his job and he has his Terp's off to a 3-1 start.  They are chomping at the bit for revenge from last seasons 17-13 Duke win and want win number four which could set up the kind of season that is needed to save his job.  In order for Duke to compete in this game, I give way to Coach Cut's theory on turnovers and this years squad.
Be patient
Duke fan must show patience with this young team for things will get better but it may be tough  getting there at times.  Duke is rebuilding this season and trying not to burn more redshirts which are critical to long term success.  If they hang in there and we do the same, eventually some good things will happen.  There is talent on this team that simply needs to come together.  We'll see how the team looks when a couple of early breaks go there way and opponents begin to overlook them.