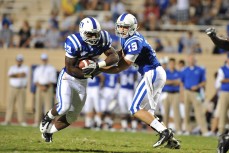 DURHAM - The Duke Blue Devils got off to a 1-0 start in the 2010 season with a 41-27 win over a pesky Elon team.  Duke raced out to a 27-13 lead to end the first half but came out flat in the third quarter allowing the Phoenix to close within a touchdown before the Blue Devils got their confidence back and secured the victory.
It was a show of two good quarterbacks as Elon's Scott Riddle riddled the Duke defense going 22-42 for 281 yards and two touchdowns.  Elon also gained 400 plus yards on offense against the Duke defenders.  Riddle scampered for 11 yards early in the 4th quarter cutting Duke's lead to 27-20, but the Blue Devils would answer.
Sean Renfree helped take Duke on a 67 yard drive capped off by a 3 yard touchdown run by true freshman Josh Snead giving Duke a 34-20 advantage.  Renfree was 31 of 39 for the game which translated into 350 yards and 2 touchdowns.  Ten of his passes went to Conner Vernon who ended the game with 129 yards in receptions.
"In the air, we knew what we had to do and went out there and executed," said Vernon.
After a Duke defensive stand, the Blue Devils scored on a time consuming 26 yard drive where Jay Hollingsworth got the score on a one yard run up the gut giving the home team a 41-20 lead.
Elon would score again on a 79 yard drive cutting the lead to 14, but Duke ran out the clock after a 48 yard scamper by true freshman quarterback Brandon Connette to secure the win.
Desmond Scott led the team in rushing with 77 yards for a 5.1 and Duke had seven players rush the ball which meant they were able to play a lot of people.  Duke put up 542 yards of total offense which is the most in the Cutcliffe era.  Duke had three rushing touchdowns which is more than game last season where two touchdowns was tops.
We'll have another game recap on Sunday, so stay tuned and we should have Coach David Cutcliffe's comments up shortly.