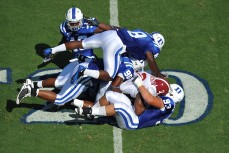 DURHAM - The Crimson Tide rolled through Durham and over Duke as they outplayed the home team in every aspect of the game in a 62-13 victory.  The Blue Devils were simply no match for the nation's top-rated team, who were led by the return of Heisman Trophy winner, Mark Ingram, the Alabama tailback.  Ingram rushed for 151 yards and scored 2 touchdowns, but when the Tide went to the bench it didn't hurt them a bit, for their second and third team backs scored as well.
Duke struggled with their passing game where Sean Renfree was 17-34 for 144 yards and 1 touchdown.  "They're definitely a great football team but in a way we beat ourselves," said Renfree. Duke did, however, have a decent day running the ball where true freshman Josh Snead carried 14 times for 83 yards.  The Alabama defense shut down Conner Vernon, who caught just two passes, while Donovan Varner led the team with 7 catches for 55 yards.
"I told them [our team] that anybody who watched the game or the last two games that we are in rehab," said a frustrated Coach Cutcliffe after the game.
Big plays were the name of the game for the Tide where Trent Richardson broke off a 45 yard run for a score to go with a 90 yard kick return for another.  And their quarterback, Greg McElroy, has still yet to lose a game from his high school season to now.  McElroy finished the game hitting 14 of 20 passes for 258 yards and 3 touchdowns.
Duke falls to 1-2 on the season and they look to right the ship against a solid Army team next week.  More to come.