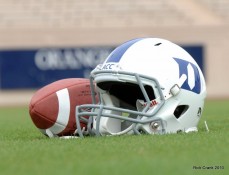 DURHAM - If you are out and about in the Durham area today, you can already see those Bama flags with that curious elephant on them flap about on out town cars.  The invasion of Bama faithful is on as the nations number one team has even the most casual fans excited about what is turning into an event unlike any other seen in these parts for some time.
N.C. State and North Carolina are just mere miles from the Duke campus but in Tuscaloosa, the Tide is the only game in town and state with the exception of their rival, the Auburn Tigers.  Duke Coach David Cutcliffe warned of the invasion during his weekly press conference and it's as if he knew exactly what to expect.  He mentioned that the visiting fans would be walking around the campus and stadium to check it out and sure enough after leaving Coach K's Thursday press conference, there they were strolling around campus on two full days before the game kicks off.
But the Tide fans weren't the only curious ones.  Duke fans came by to see the erected bleachers which transform Wallace Wade Stadium into something much different than some are used to.  In the open end of the stadium there is a huge section of bleacher brought in from the games hype.  Across the top, there are three other sections on each side.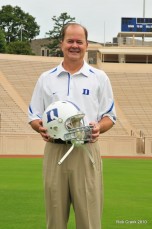 There is even a smaller section in the closed in of the stadium which is reserved for a ton of Duke Football prospects, coaches and others affiliated with the program in some way.  The word is concessions are stocking up as if  two games being played but let us warn you that going to get your soda's and such could cause you to miss big portions of the game so plan accordingly.
Another suggestion is to leave as if this was a 1:00 game for traffic will be at an all time high and confusion will reign as the invading horde tries to find their way around.    In short, there is no trial run for the circus, but that is half the fun for unless you are there you cannot witness what is sure to be a sight for the local fans.
This is the game where Duke fans should all wear their royal blue with pride and cheer like they never have before and back the team and program no matter how the game progresses on the field.  This team deserves that support for they are young.  Coach Cutcliife deserves this for he is truly turning the once moribund program around.  The Administration deserves this for they allowed this game to remain in Durham instead of selling out for short term bucks.
Get out there and tailgate folks!  Go to the Chapel and or line the way as the Blue Devils march through two hours before game time on their way to Wade.  Simply get out there and enjoy the atmosphere of big time college football and learn from the experience.  And when you leave you will not only say, "I was there," but you will take away a unique experience and a part of the process of growing the program to where they desire to be.
Alabama is good.  Heck, they are real good, awesome if you will.  You can almost see Godzilla mving in from tree tops afar.  As solid as they are though, too much local focus has been on them instead of our own.  When you are watching the game, keep in mind that the vast majority of these Devils will return next season and that a solid quarterback in Sean Renfree is just beginning his career.
Very few people expect Duke to win but that's okay for sometimes you can actually win a bit in a loss.  This may be the case for Duke in that they can measure themselves against future NFL starters and carry any positives over into the rest of the season.  They will see the highest level of football and can take away gains from the experience.
And for gosh sakes, cheer them on even in the toughest moments.  Be heard on third down plays despite what may have happened in the previous possession for just one stop can lead to good things.  It will seem like a Alabama North game to many but this is still our house and our turf.  Let's not roll over and concede without a fight both in the stands and on the field.
Your team needs you.  Cheer loud, cheer often and wear your Duke Blue and if you are on the fence about going, if you don't you can never say, "I was there when the nations best team came to town and the place was packed."  Don't fret the worries about a ticket if you don't have any, just go and things will work out.  This is a call to arms for Duke fans from BDN.  Don't let "your" Blue Devils down.
The spirit of Wallace Wade will be roaming about, but will you?  Bring the spirit!