Archives by date
You are browsing the site archives by date.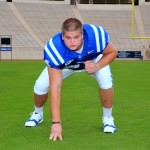 By Mark Watson on September 28, 2010
DURHAM – Redshirt freshman David Harding is enjoying his first season in the trenches as a Duke offensive lineman.  BDN caught up with the future offensive line stalwart during todays weekly press conference.
Posted in Duke Football | Tagged David Harding, Duke Football, Duke vs Maryland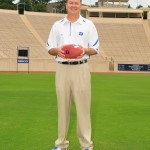 By Mark Watson on September 28, 2010
DURHAM – Duke Coach David Cutcliffe made it clear that Duke would not hang their heads during today's media conference where he talked Maryland and the state of the team.  Listen in for yourself by pressing play below -
Posted in Duke Football | Tagged Blue Devil Nation, Coach Cutcliffe, Duke - Maryland, Duke Football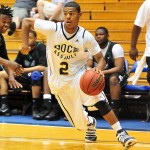 By Mark Watson on September 27, 2010
As you already know Duke will be in home with Quinn Cook this evening where Duke Assitant Coach Nate James will flank Mike Krzyzewski on [private] the visit.  We'll report on that when possible but will likely allow some space after the visit meaning we'll follow up the next day.  Quite simply Duke will gauge his […]
Posted in BDN Premium Articles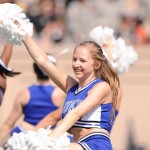 By Mark Watson on September 27, 2010
Good Morning Blue Devil Nation!  It's a rainy day here in the Triangle but that will not stop another edition of Monday Musings. Basketball is here When Duke has struggled in football there has been an on going blurb that hoops starts quicker in Durham than anywhere in the country.  Well, when you are the reigning national […]
Posted in Duke Basketball, Duke Football | Tagged BDN's Monday Musings, Cheerleader of the week, Coundown to Craziness, Duke Basketball Recruiting News, Duke Football, Duke Womens hoops, watzone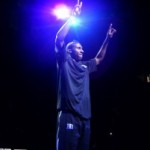 By Duke Sports Information on September 27, 2010
Single Game Tickets Go On Sale Oct. 6 DURHAM, N.C. — Tickets to the Duke men's basketball season opening event, Countdown to Craziness, on Friday, Oct. 15 are on sale now at www.GoDuke.com/tickets <http://www.GoDuke.com/tickets> . Countdown to Craziness begins at 7:30 p.m. and will be shown by ESPNU during its Midnight Madness coverage. ESPNU's Midnight […]
Posted in Duke Basketball | Tagged BDN, Countdown to craziness, Duke Hoops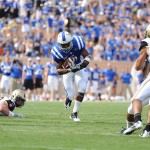 By Mark Watson on September 26, 2010
It was one of those days for the Duke Football team this Saturday, one which the team, coaches and fans want to move on from as soon as possible.  BDN takes a look at yesterday's 35-21 loss to Army and we share some idle thoughts. You cannot turn the ball over and win Texas turned […]
Posted in Duke Football | Tagged BDN's Sunday Quarterback, Duke Football