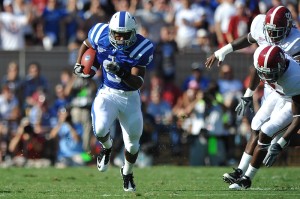 Except the lopsided final score, Duke survived the Alabama game from a statistics perspective, which goes a long way toward validating the humorous saying often quoted, "Liars, damn liars, and statisticians." There is more to football than numbers. However, that is equally true of the final score, which was the result of being overmatched against the best team in the nation. As Coach Cutcliffe stated when he addressed the media, "After getting into the game tape, multiple times, I'm more encouraged than discouraged about our athleticism, future, immediate future…we have some athletes…we have capabilities in place…"
There are several legitimate positive takeaways from Saturday's loss starting with one offensive category not addressed in last week's article: rushing offense. Duke is averaging 155.7 yards per game on the ground, which places them at number eight in the ACC and number 61 in the nation. The significance of these rankings is the improvement over last season when Duke was ranked number 120 or last in the FBS. With three games under their belt, all indicators show Duke will be able to run the ball in 2010, a fact with serious implications for defensive coordinators of future opponents who now must prepare a defensive game plan to counter a balanced offensive attack by the Blue Devils.
Desmond Scott and Josh Snead have both shown they can successfully run the ball, and the offensive line has demonstrated the ability to run block. Snead's 83 yards from scrimmage against the Crimson Tide and Scott's 129 the previous week against Wake Forest provide Coach Cutcliffe with a tailback tandem to factor into future game plans. Teams which successfully run the ball routinely feature two running backs. Duke has rushed for 467 yards in 2010, which is more than two and a half times the 184 yards Duke totaled during the first three games in 2009.
Punt and kick-off return performance are two more areas which were not addressed in last week's article. Lee Butler is ranked number 15 in the nation in punt returns. He is averaging 15.25 yards per punt return after three games by returning four punts for 61 yards. Butler is also Duke's leader in tackles with 21 on the season including six against the Crimson Tide.
Josh Snead is ranked number 31 in the nation in kick-off returns. He is averaging 25.75 yards per kick return by returning four kick-offs for 103 yards. Kick return performance is an area where Duke can gain an advantage over opponents in the critical starting field position statistic.
All statistical rankings quoted throughout this article are from www.theacc.com and www.ncaa.com.
Offensive statistical categories which remain impressive:
1. Total offense: Duke remains impressive in the total offense category by averaging 443.7 yards per game, which ranks number three in the ACC and number 27 in the nation. Performance in this category will climb with the Alabama game in the rear view mirror.
2. Time of possession: At 32 minutes and 27 seconds per game, this statistic is a bit misleading due to Alabama scoring on quick strikes. Duke is number one in the ACC in this category.
3. Third down conversions: successfully converting on 23 out of 48 opportunities (47.9%) is good for a number three ranking in the ACC and number 27 in the nation.
4. Red zone offense: Duke remains at 100 percent success in the red zone scoring eight touchdowns and four field goals in 12 opportunities.
5. First downs: Duke remains number one in the ACC with 71 first downs. The Blue Devils have rushed for 22, passed for 43, and been awarded six via penalties. These numbers result in Duke being tied with Notre Dame at number 16 in the nation.
Defensive statistical categories still need to improve:
1. Total defense: Duke ranks last in the ACC and number 117 in the nation by allowing 510.7 yards of offense per game to opponents.
2. Scoring defense: It is no surprise Duke is last in the ACC giving up an average 47.7 points per game. Those numbers rank number 118 in the nation. This is the statistic Duke must correct as the season moves forward. A defense can afford to bend as long as it does not break; however, Duke has given up way too many points so far this season.
3. Opponent first downs: Duke's defense ranks last in the ACC and number 115 in the nation by giving up 75 first downs. Opponents have rushed for 33, passed for 36 and been awarded six via penalty.
4. Red zone defense: Opponents have scored on Duke in 13 out of 14 red zone opportunities, but the good news is Duke stopped Alabama once last Saturday. Duke is number nine in the ACC and number 98 in the nation.
5. Turnover margin: With a three to one turnover advantage this past Saturday; Duke now has a plus two (+2) in turnover margin, which is ranked number five in the ACC and number 33 in the nation. While the turnover advantage was irrelevant against Alabama, this remains a key statistic to follow for success on the gridiron.
Noteworthy individual performances:
1. Sean Renfree's passing efficiency rating dropped to 135.6, which ranks number seven in the ACC and number 51 in the nation. His efficiency rating along with his conference and national rankings should climb moving forward. Renfree threw for 144 yards this past week dropping his season average to 284 yards per game, which is number two in the ACC and number 13 in the nation.
2. Conner Vernon was held to 10 yards on two receptions so his individual national rankings fell. He is number two in the ACC in receiving yards per game at 106.7 and tied with Donovan Varner for number two in the ACC in receptions per game at 6.7. Those numbers rank number 13 and 21, respectively, in the nation.
3. Desmond Scott remains at number two in the ACC in All-purpose yards but drops to number 23 in the nation with 153 yards per game. While he only rushed for 41 yards this past weekend he returned four kick-offs for 59 yards and had 28 yards receiving to total 129 all purpose yards. Scott fell from number one in ACC to number five in rushing yards. His 79.3 yards per game is currently number 54 in the nation.
This week's contest against the Army Black Knights is a crucial game as the Blue Devils attempt to even their record at 2-2. All eyes are focused upon the defense after they've given up 116 points in the previous two games. If Duke is to record a victory over Army, the defense must step up and stop the Cadets offense. Be sure and check back with Blue Devil Nation next week for an updated stats report where we hope to report about improvement on the defensive side of the line of scrimmage.