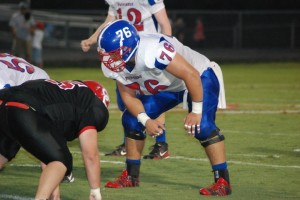 Cody Robinson is a 6'4" 305 pound offensive guard from McMinnville, Tennessee. He recently visited Durham to take in the Duke vs. Alabama game and BDN caught up with him to get his thoughts on his visit and his senior year.
"The visit went really good. I really enjoyed talking with all of the coaches and the players a lot," he said. The visit to Durham capped off what has been a busy few months, and Cody will announce his college decision on Friday at noon at Warren County high school.
Warren County has started their season with a 2-3 record, getting a big win last week. "We definitely have some issues with being young and starting seven freshmen," Cody said, "but we just got a big win." As a senior team captain, he's been piling up the tackles so far this year, and said that the offensive line has had a pretty good year so far.
Cody holds scholarship offers from nine schools, and has received interest from many more. Duke was the first to offer and has been recruiting Robinson the longest; Kentucky was his most recent offer, which came in June. Over the summer, Cody attended camps at Kentucky, Tennessee, Duke, Arkansas, Middle Tennessee, and Vanderbilt. He also fit in trips to Memphis and Syracuse.
Cody recapped his summer visits as follows:
Kentucky: "They offered me right after camp. It's a good school and an up-and-coming program. Lexington is a really nice city."
Tennessee: "I've always loved Tennessee. There's lots of changes going on there with the program, with a new coaching staff."
Duke: "They're going to get really big, really fast. They have great coaches and some really good players. They're fixin' to take off."
Arkansas: "They've got a nice thing going there and have really nice facilities."
Middle Tennessee: "It's really close to home – just 35 minutes from my house, and they're just really good people there."
Memphis: "That's a good staff that's done really well in their first year, it's definitely another up-and-coming program."
Syracuse: "When I visited in June, it was 25 degrees cooler there than in Tennessee. It was really nice and wasn't what I was expecting at all. When you think New York, you always think the city, but Syracuse is really nice with mountains and it's very laid back."
Vanderbilt: "It's about 90 minutes from my house. They're going through a coaching change there."
Cody also holds scholarship offers from Western Kentucky, Tulane, and Chattanooga.
Cody's father, Ray Robinson, was an offensive lineman at Tennessee under Head Coach Johnny Majors and Offensive Line Coach Philip Fulmer in the mid-1980s. Cody has lived up to his father's legacy, becoming one of the top offensive line prospects in the state of Tennessee. The program he chooses on Friday will be getting a good football player and a very good young man.