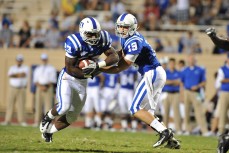 WINSTON SALEM- If you love offense then today's game was for you but if you are a Duke fan falling short in a game like this was simply tough.  The Duke defense failed to stop Wake's big plays and in the process the Deacs had a 54-48 win.  The  Blue Devils mistakes in the kicking game coupled with some bad luck deflections where the ball went through receivers hands for interceptions proved brutal in the end.  But with under a minute left Duke had a chance to win but failed to recover an on sides kick.
Sean Renfree passed for 358 yards and 4 touchdowns but did have 3 interceptions and as I mentioned a couple of them should have never happened.  Desmond Scott rushed for 122 yards as well going over 100 yards in the first half alone.  The two team combined for just under 1000 total yards.
We'll have more on the game coming later this evening.