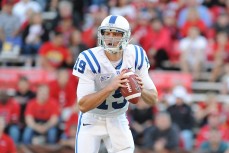 In preparation for this weekend's matchup in Blacksburg, BDN exchanged a Q&A with the folks at Gobbler Country. Our responses can be viewed over at their website. Riding a 5-game winning streak, the Hokies' are confident heading into Saturday. The Blue Devils will have a great challenge and opportunity in Lane Stadium.
BDN: Heading into the week 1 matchup with Boise State, expectations were obviously high for the Hokies, but they ended up starting the season 0-2. With the recent losses at the top of the BCS, how disappointed are Virginia Tech fans? With Taylor graduating, was this a missed opportunity?
GC: I'm not sure if disappointed is the right word. For a lot of fans, there was a meltdown of epic proportions after the loss to JMU. Me, I just drank (and drank, and drank, and drank ...) but at the end of the day, there was still the chance to win the ACC if they got their act together.
And that was the expectation all along for me. I figured our best case scenario was winning the ACC and anything else would just be icing. I don't know if I'd go as far as to say it was a missed opportunity because I didn't think the defense would be good enough at the start of the season for us to actually go unbeaten and have a shot at the title.
I'm definitely not among the fans who feel like every year is National Title or Bust. But eventually, I'd like to see us at least be in the discussion in November. But with the way we tend to play in September that will never happen.
BDN: What, in your opinion, went wrong in weeks 1 and 2, and what has been the difference in the current 5-game winning streak?
GC: The defense was young and missed tackles and assignments and the offensive line was terrible. Both sides of the ball have gotten their act together, especially the offensive line. You look at how it played in those first four games compared to the last three and it's completely night and day. On defense, we've had some younger guys start to make plays like Bruce Taylor at mike linebacker and Antone Exum in the secondary. They're still young and giving up big plays, but more often than not they make the play they're supposed to make.
BDN: It sounds like Ryan Williams will be back this week. How do you expect that to affect the offense, which seems to be hitting its stride?
GC: It looks like he'll only be in for a couple of series, and I imagine he'll get around five carries. I really don't know what to expect. When he was in there, the offensive line wasn't opening holes and he was getting bottled up in the backfield. I like to think that he'll be able to fit right in and eventually get back to his 2009 form, but I fear that we'll try to rely on him too much when he gets back to 100 percent.
BDN: Duke has played Virginia Tech tough the past two years. Why do you think that is, and do you expect that to continue this year with what you've seen of both teams in 2010?
GC: If Thad Lewis had played in 2008, there's a good chance you guys would have beaten us. We were awful on offense that game and couldn't stop turning the ball over. The last two years Duke has tried to take away Virginia Tech's run game and was especially effective last season. However, Tyrod Taylor was able to burn them last year. What killed Duke a season ago was the inability to finish drives in the red zone. The Devils settled for field goals while the Hokies scored touchdowns.
This year, I really expect the Hokies to come out and dominate. Duke had some talent on defense last year, but it just isn't there this season. Hopefully they'll be able to put up big points like they did last week against Wake Forest and at the same time not give up the big plays that plagued them last week against Wake and last year against the Devils.
BDN: I don't know that Virginia Tech needs anyone off the Duke roster to significantly improve their chance of winning this one game, so I'll ask you a slightly different question. If you could draft a player or two from Duke's roster to have for future games and seasons, who would you choose and why?
GC: I'm going to cheat and take David Cutcliffe to be our quarterbacks coach. No offense to Mike O'Cain, but he hasn't exactly produced any Peyton Mannings in his time in Blacksburg. Tyrod Taylor has steadily improved his passing abilities, but I can only imagine what having a guy like Cutcliffe around could do for him. Heck, Cut could have probably made Sean Glennon All-ACC.