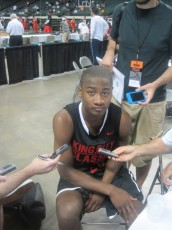 If you ask anyone in the recruiting world who Rodney Purvis is, they will all know the name.  Purvis, a 2013 stud prospect, has been turning heads for quite awhile now.  Armed with the ability to get into the lane at will, Rodney has secured himself thus far as a top 5 prospect among the different recruiting services.  The talented guard is receiving interest from anyone and everyone and it's no wonder when you see the skills he brings to the court.  Purvis, a North Carolina native, got a chance to stop by Duke and take a visit and in turn, received himself a scholarship offer from the reigning national champions.  BDN got a chance to speak with the talented youngster, here is what he had to say.
BDN: You have a great knack for getting into the lane, is working on your handle something you do a lot?
RP: Yes I work on my handles a lot actually and I'm trying to make the change to being a point guard.


Sorry, but you must become a premium subscriber to view the rest of this post.

Join now by visiting the PREMIUM MEMBERSHIP link at the top of the page, where you can learn more about the benefits of a Blue Devil Nation Premium membership.