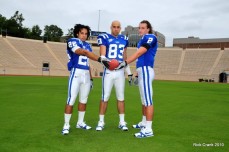 BDN Previews Duke's Trip to Blacksburg
Duke (1-5, 0-3 ACC) and #23 Virginia Tech (5-2, 3-0) will kickoff at noon ET on Saturday in Lane Stadium. The game will be televised by the ACC Network in ACC markets (check for local TV listings here) and will be available at espn3.com in non-ACC markets.  
Duke in Week 7
The Blue Devils fell to the Miami Hurricanes last Saturday in Durham, 28-13. Once again, turnovers doomed the Blue Devils, as the offense committed 7 total turnovers, including 5 interceptions thrown by QB Sean Renfree. The turnovers led to 14 Miami points, including an interception returned for a touchdown on the first drive of the second half, which put the Blue Devils down for good. Yet again, the defense showed tremendous improvement from earlier in the season, holding the talented Miami offense to just 3/12 on 3rd downs and 0/4 on 4th downs. Duke recovered a fumbled kickoff to open the game and also recovered a fumble forced by LB Abraham Kromah in the second 2nd quarter. Junior RB Jay Hollingsworth had his best game as a Blue Devil, "running with a purpose," as Coach Cutcliffe later described, for 69 yards on 10 carries.  
Virginia Tech in Week 7
The Virginia Tech offense exploded against Wake Forest last week in Blacksburg, blowing out the Demon Deacons 52-21. The Hokies put the game away quickly, scoring on 7 of their first 8 possessions and jumping out to a 49-14 halftime lead. Though they managed just 3 points in the second half, the Hokies totaled a season-high 605 yards of offense, distributed evenly with 314 passing yards and 291 rushing yards. Senior QB Tyrod Taylor led the way with 3 touchdowns through the air and added another on the ground. Junior Darren Evans added 3 more touchdowns on the ground, while sophomore David Wilson ended the game with 105 yards on 15 carries. The defense held the Demon Deacons to just 14 points, but did allow a career-high 241 rushing yards to Josh Harris. 
Analysis
Virginia Tech is playing their best football of the year right now, and it will require an exceptional effort for the Blue Devils to pull off the upset in Blacksburg. It all starts with Taylor, whom Coach Cutcliffe has described as the "best dual-threat quarterback in college football." While Auburn fans may want to debate that, the bottom line for Duke is that Taylor has accounted for 12 passing touchdowns, 3 rushing touchdowns, and just 3 interceptions so far in 2010. He ranks in the top 8 in the conference in both passing and rushing yards per game, and is the ACC's most efficient passer. Taylor's favorite target has been junior WR Jarrett Boykin, who has hauled in 29 passes for 469 yards and 5 touchdowns on the season. The Hokies' talented rushing attack behind Taylor is led by Darren Evans, who returns after missing all of 2009 with a knee injury; Evans averages 6.0 yards per carry and has rushed for 8 touchdowns. Last year's ACC Rookie of the Year, Ryan Williams, is expected to return this week after missing several games with a hamstring injury. Sophomore David Wilson moved to the backup role in Williams' absence and averages 6.8 yards per carry. Overall, the Hokies' rank 1st in the ACC at 36 points per game, 3rd in total offense at 415 yards per game, and 2nd in rushing offense at 222 yards per game. 
The typically stingy Virginia Tech defense has been somewhat more forgiving this year, falling in the middle of the ACC in most statistical categories, yielding about 22 points and 354 yards per game to opponents. The Hokies are +3 in turnover margin and have 17 sacks on the year; they rank 3rd in the ACC in rushing defense, giving up 142 yards per game (4.6 yards per carry). Though they started the year with significant youth on defense and special teams, their playmakers have grown up quickly, which partly accounts for their turnaround after the 0-2 start. Sophomore CB Jayron Hosley is tops in the ACC with 4 interceptions and 9 passes defended, while sophomore LB Bruce Taylor enters the game 3rd in the conference in tackles for loss and 8th in total tackles. The defensive front is anchored by senior DE Steven Friday with 4 sacks. Senior LB Davon Morgan and junior S Eddie Whitley add a veteran presence to the defense and rank second on the team in tackles behind Taylor. Whitley is listed as doubtful on the injury report with a foot injury and may be replaced by redshirt-freshman Antone Exum. 
Typical of Frank Beamer's teams, the Hokies are 3rd in both kickoff and punt returns, having returned one of each for a touchdown. Both teams rank in the top 5 in the ACC in fewest penalties, and feature the two most accurate FG kickers in the conference in Will Snyderwine and Chris Hazley. In short, it's tough to find any glaring weaknesses on this Virginia Tech team where the Blue Devils can take advantage. 
The keys to the game for Duke:
1. TURNOVERS: Broken record time. Duke can't compete at the rate the offense is turning the ball over. Renfree has to make better throws and decisions; the receivers have to do a better job of catching the ball in coverage. The defense also needs to do a better job of taking the ball away; they managed two takeaways last week and will need to find a way to force at least that many if they want to pull off the improbable upset. 
2. DISCIPLINE: Taylor is just as effective as a runner or a passer. When he scrambles, Duke's defenders must stay disciplined to prevent big plays on the ground or through the air. On special teams, kick coverage will also have to be at its best to avoid giving up easy scores. Missed assignments in any phase of the game will doom the Blue Devils this week. 
3. CONFIDENCE: Duke has to get the ball to its playmakers, most notably sophomore WR Conner Vernon. His confidence is infectious for this young team, and can really open things up for the offense. Duke's young running backs, led by Desmond Scott, will need to run with purpose and consistently find positive yardage to take pressure off the passing game. Across the board, the Blue Devils will have to stay positive in a hostile environment Saturday. 
BDN Prediction
The numbers seem stacked against the Blue Devils this weekend. Duke looks to reverse a 5-game losing streak, while Virginia Tech looks to extend a 5-game winning streak and a 9-game winning streak against Duke. Since opening 0-2, the Hokies are averaging over 41 points per game with an average margin of victory of over 3 touchdowns. Last week, Taylor showed what he can do against an inexperienced and undisciplined defense, putting up 49 points in the first half alone. To compete with Virginia Tech, Duke simply cannot turn the ball over. To pull off the upset, the Blue Devils will have to play flawless in all phases of the game.  
VT 42
Duke 17