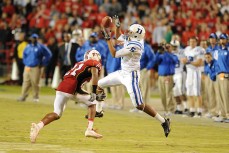 The Duke Blue Devils dropped to 1-4 on the season with a 21-16 loss at Maryland and BDN takes a look at the game -
Turnover issues haunt Duke
Coach Cutcliffe has made it clear that Duke must win the battle of turnovers to win and once again Duke had two critical interceptions kill drives.  The worst one was a third down  interception at the Maryland 17 yard line with Duke leading 9-0 with minutes left in the half.  Maryland went on a long drive as time ran out where they score a touchdown and take momentum into the locker room.  Had Duke played it safe and gone for the field goal, they would have had a 12-0 lead and later in the game a field goal would have sent it to overtime.  Then again, a 16-0 lead would have crushed the Terps confidence.
Failure to take advantage of red zone opportunities
Duke was in the red zone four times in the first half and scored just 9 points.  The Blue Devils are having trouble finding the end zone of late and if just one of those went into the end zone it would have changed the complexion of the game. 
Another tough third quarter showing
The half ending touchdown allowed Maryland to seize momentum in the 3rd quarter and Duke only adjusted as the period was running out.  Not sure what to make of this other than until they win the battle in the third the spiral will likely continue.  Maryland outscored the Devils 7-0.
Duke outplayed the Terps
Duke outgained the home team 399-294 yards and 70 of those came on one big play.  Duke also had 21 first downs to Maryland's 14.
Big plays were brutal
The punt return for a touchdown and a big pass play both resulted in Terp touchdowns.  Nuff said.
Special teams not so special
We talked about the punt coverage where the lead gunner was faked out and the rest of the team offered no support.  The Devils punted 4 times for a net average of 23.5 yards.
Take away one big play and the defense was solid
The Duke defense stymied Maryland for most of the first half and take away the big pass play for a touchdown and the D held their opponent to just over 200 total yards, a vast improvement.
Youngsters made big plays
True freshman Kelby Brown was in on some key 3rd down stops and Walt Canty played his best game of the season.  Another freshman, Brandon Braxton had two key receptions on drives and Sydney Sarmiento played wel on the defensive front.
Snyderwine back in the groove
After struggling in the pre season, Will Snyderwine had a sweet stroke on his three made field goals.
Off week ahead
Duke will have a chance to gain more practice reps and rest for the ACC's highest ranked team in Miami two weeks down the road.