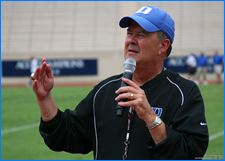 COACH CUTCLIFFE: Good afternoon. It's a good opportunity for us to have this open date week. Preparation, we need a little extra time for Miami, but more importantly a little extra time on Duke.
Its somewhat like spring practice around here right now. We have a lot of things to show up and a lot of people to grow up, try to get better one practice at a time. With that, I'll take any questions.
THE MODERATOR: Questions.
Q. Coach, I wanted to ask you about recruiting in the sense that you have a class now that's your fourth-year seniors and your third-year juniors that's very low in numbers for various reasons. How difficult is that to overcome in a program where you have a near hole in your progression of recruiting classes? 
COACH CUTCLIFFE: Well, it is sometimes a little difficult. You try to balance those numbers out. We've looked at that closely.
We're in a situation where we can sign - and the number may vary - but over 20 this year. Next year, looks like the number is going to be real low. Our scholarships are really tight. It puts you in a little bit of a bind. You don't want that to keep reoccurring. It's hard to get out of that.
Between redshirting some, playing some freshmen, that's kind of how we'll balance it over a period of time. We're okay right now. We have a predominantly young football team, as I've said before. 99, including our walk-ons. We've tried to revitalize the walk-on program. We had 99 guys out there in August, and 51 of them were either true or redshirt freshmen.
Q. Isn't that a function of what should be a core class, being small, that you don't get a lot out of what should be one of the guys that are really producing and leading right now?
COACH CUTCLIFFE: Oh, no question. We had some of that left. It didn't work out. Unfortunately, a little bit of dismal circumstances, so it depleted it pretty rapidly. We're not a junior college recruiting program. That's the other way you try. I've been a part of that before, where we had to beef up some lean classes with JC guys. Cooper Helfet certainly helped that with the junior class. That's not going to happen very often at Duke.
Q. David, how is your tight end position evolving this year? Looks like Brett has missed some time with injuries, but other guys moved up on the depth chart in that area.
COACH CUTCLIFFE: Brandon King and Cooper Helfet are doing the bulk of the play. Brett has been out for some time now with a knee. He was injured in practice. So he's missed three ballgames. Hopefully we get Brett back.
But Brandon and Cooper are a little different model. Coop is more of the lean receiver and can run. Brandon is a little bit of a fullback/tight end type guy. We have a lot of guys that play a lot of positions for us and play versatile positions for us. It's one that we're growing the model. Not quite where we want to be, but I'm pleased with those guys and certainly what Coach Middleton has gotten done with that position.
Q. Is it possible Brett will be back for your next game?
COACH CUTCLIFFE: We're kind of day to day. I mean, between this open day, he has a little bit of running in today for the first time. I don't know if that's going to compute in him being able to get back out and practice, but there's a chance he'll play..
Q. On Miami ...
COACH CUTCLIFFE: Miami is a large amount of time, two-back big personnel. Kind of have to look at both worlds a little bit against them. But it's something we do like. It's something we did a lot at Ole Miss with great success. We're hopefully kind of going to be able to grow that model with young guys like Anthony Young-Wiseman, Jordon Byas, Taylor Sowell, some other safety types that are guys that are physical enough to play in linebacker, but yet can play man-to-man coverage and do a lot of things in the secondary as well for us.