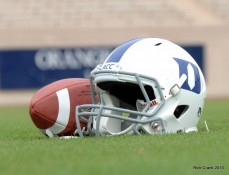 Duke outplayed Maryland for the majority of the game but the same old bugaboos haunted the Blue Devils again.  The Terps had two big plays, one an 84 yard kickoff return and the other Da"Ral Scotts 71 yard touchdown reception.  Duke also had two turnovers to zero for Maryland and those two were critical, especially the first interception as Duke was in the Maryland red zone late in the half with a 9-0 lead.
The Terps put together a drive cutting the led to 9-7 at the half and Duke once again struggled in the 3rd quarter before waking up late in the period where Renfree hit King for a 2 yard touchdown pass which cut the lead to 21-16.  The Duke defense was much improved on the day and take away that big pass play and they held Maryland to about 200 yards of offense.
Duke had a chance to win the contest but their drive stalled and on 4th and 15 when Renfrees pass to Austin Kelly was broken up and Maryland simply had to run out the clock.  Referee hit 28 of 36 passes for 351 yards to go with 1 touchdown and 2 picks.  Donovan Varner hauled in 8 passes for 128 yards.
It was a tough loss for the Blue Devils in that they could have easily won this game had they had 1 or more of 4 plays go their way.  Duke falls to 1-4 on the season and 0-2 in the ACC.  We'll have more in our Sunday Morning Quarterback column.