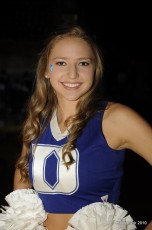 The Duke Men's Basketball team were an offensive machine in route to scoring 141 points against St. Augustine's in the season opener while the Duke Women held their Blue-White game entertaining key recruits.  Meanwhile the football team continues their struggles on the gridiron and we'll talk about all that in the return of our Monday Musings article after a one week hiatus.
These Devils can run
Beep-beep!  That's the sound the infamous cartoon character the "Roadrunner," makes when churning up and down the countryside as he outwits Wile E. Coyote along the way.  This seasons Duke men's basketball team reminded me of  a bunch of roadrunners in the way they pushed the ball up and down the court with ease while never being threatened by an outgunned St. Augustine's in their exhibition game opener.  The bottom line is all but possibly one of the Duke Scholarship players thrive in a system where Krzyzewski will more often than not turn them loose.  During the post game interviews, Kyle, Kyrie and Nolan all told BDN that they have never played on a team that dropped 141 points.
Coach K shares criteria for this seasons bigs
During last weeks ACC Operation Basketball, Krzyzewski spoke of how his bigs needed to be efficient this season for Duke to have success.  In short their role will be to rebound the ball, defend the post but more importantly to be efficient with limited offensive touches.  Mason Plumlee's stat line from Saturday epitomizes what he is looking for in that he was 6 for 6 from the field, grabbed 8 boards to go with 2 assists, 3 blocks and a steal in just 19 minutes of play.  By comparison, his brother Miles Plumlee found just 2 points and 2 rebounds in 22 minutes but he did have 4 blocks, yet I realize that we cannot judge a player off of a simple exhibition game.
Blue Devils depth is just plain nasty
It's fair to think that even if several Blue Devils struggle on the offensive end this season, their depth will bail them out.  With a team full of shooters, especially those who can drain the three point ball, somebody shpould  always be able to step up.  A scary thought is what will be when all the Devils are hot at the same time.
BDN Premium checks in with Alex Murphy and player interviews
We posted a couple of post game interviews with Kyrie Irving and Nolan Smith and will continue to bring you exclusive post game bits all season long.  BDN Premium chatted up key prospect Alex Murphy last evening and he gave us some lengthy answers to burning questions.  Support Blue Devil Nation by joining BDN Premium and get full site access which includes all of the recruiting, inside stuff and the ability to chat with other members via our private members only message board.  We think you'll be happy with what you find as a member here.
Duke Women hold their Blue-White Scrimmage and entertain key prospects
The Duke Women's Basketball team held their annual Blue-White scrimmage on Sunday where two true freshman led the way.  Chloe Wells and Tricia Liston scored 18 points apiece and the duo and their mates will mix with three Duke veterans this season, meaning they will play key roles.  For more, check out this link. 
Coach P and Duke entertained verbal commitment Whitney Knight and the nations #2 rated prospect  Elizabeth Williams this weekend as well as BDN will continue to focus in on the women's team recruiting efforts.
Can Duke catch Navy napping?
The  Duke Football team now enters a stretch where they should be able to compete against the teams on the remainder of their schedule.  The next opponent Navy could be fat and happy, coming off a victory over Notre Dame and this could prove to be a trap game for the Middies.  It's true that Navy will be a favorite but the fact that they do not pass the ball a lot helps Duke prevent some of the big plays that has rocked them in the season to date.  The Middies open as a 14.5 point favorite.
Renfree too good to continue his struggles
I feel for Sean Renfree who is simply learning on the fly this season.  Expectations were high for Renfree in that he had a lot of success spelling Thaddeus Lewis last season.  Renfree is a good quarterback that has hit the skids and in the process he may be overthinking the game.  Whatever the true issue might be with concerns to red zone and turnover struggles, Renfree is the only capable Duke starter in that Brandon Connette is simply a true freshman.  Of course, it would help Renfree if the vaunted Duke wideouts would reel in a few more passes which at times are right in their mitts.
Have a good week Blue Devil Nation and join us each and every Monday for more random musings.