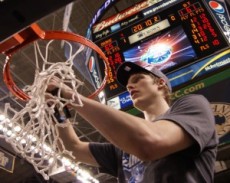 The after effect of Austin Rivers recent commitment will be felt for some time to come.  Face it, Duke Basketball Recruiting has been stellar of late with talented kids like Kyrie Irving and Austin Rivers committing back to back.  As soon as this seasons basketball analyst get a chance, they'll have to and in some cases be forced to give these guys big props which will lead to some pretty serious exposure for the program.  Then again, Duke already has all of their basketball games televised every single season.
Coach Krzyzewski has been on a roll of late winning Gold for Team USA, the 2010 national championship and the recruiting trail.  Sometimes one needs to stand back and appreciate his tremendous achievements.  The man loves a challenge and the pressure of being at the top is just fine by him.  Duke will be ranked number one in the country going into the season in the polls, but as always it'll be fun in the early season to see how Krzyzewski molds the 2010-11 team.
Duke Assistant Coach Chris Collins has been on a bit of a roll too for the aforementioned Irving and Rivers are players he was the lead assistant on.  Each prospect is assigned a particular lead assistant while being recruited and it's obvious that Collins did a heck of a job helping close on two sensational guards.  We can only hope to see them in the same backcourt one day.
The anticipation for Countdown for Craziness is building like a slow fever as fans anticipate Friday, October 15th, the start of the college basketball season.  Last seasons event was special in that it was not only the first, but the beginning phase of a magical title run, or the first stop on memory lane if you will.  This years CTC will be just as good if not better, for Duke has a new banner to officially show off.  If that weren't enough the recently signed Austin Rivers will lead a bevy of prospects and future teammates into the old girl.  Do you think that'll bring a strong reaction from the Crazies?  Let's not forget the 2010-11 team itself coming out to a died in the wool royal blue festive bunch of fanatical fans.  Who knows what antics Nolan Smith will be up to this year?  Topping last years Dawkins short-shorts spoof and his Titanic bit will be tough but I think he's up to the challenge.  Simply put, the event is a must for any Duke fan.  Have you got your tickets yet?
And in a little NBA talk, new Chicago Bulls star Carlos Boozer will miss eight weeks due to a broken hand this season.  The Bulls are depending on the Booz to put them over the hump this season  Former Dukie JJRedick signed a 19 million dollar contract in the off season, got married and has a rap album coming  out.  Glad he hasn't been doingmuch
After last seasons championship, Nike coined a slogan "Order is Restored."  Well, they are certainly on to something and one simply has to look at projected All American teams to realize it.  Kyle Singler's return has him picked as a consensus first team choice and some taut him as the likely winner of the player of the year award.  Nolan Smith is on most second teams and newcomer Kyrie Irving is projected on some second teams and no lower than third.  When's the last time Duke had three legitimate first team All American possibilities?  I'll end this weeks Monday Musings letting you ponder that question.