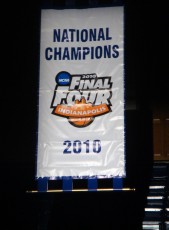 Good Monday morning Blue Devil Nation!  Talk about a big week ahead for Duke athletics, hey?  It doesn't seem like that long ago when I was coming back from Indianapolis having followed the men's basketball team on their magical run to the national championship, yet the reality of a new season is here.
It's been almost hard to put the 2010 season behind me in that it was such a special and at times surreal ride.  One can only hope that this year's team, talented as it is can produce similar moments for there are many factors which go into getting a team to come together at just the right time.  There will be no Z-Beard, no energy bunny Lance Thomas and "Steady-Eddie" Jon Scheyer on this seasons team. Those three seniors left Duke as champions but it wasn't always a walk in the park.
Winning national championships is not an easy thing to do folks!  How many times has the pre season number one ranked team failed to win the big enchilada?  The answer is more often than not for expectations can create some serious pressure, especially down the stretch.  The saving grace is that Kyle Singler and Nolan Smith opted to return for their senior seasons and that means Duke will once again have some steady leadership in the senior class.
The season kicks off this Friday evening with the much anticipated Countdown to Craziness II invades Cameron Indoor Stadium.  The event is becoming a religious experience for true blue Duke fans in that it brings you up close and personal with the players and coaches.  Last seasons event was off the charts fun from beginning to end and in serves in memory as the starting point on the road to Indianapolis.
Despite last season's successful event, this years will be just as good and very likely better.  A much hyped freshman Kyrie Irving will be making his CIS debut where he'll join newcomers Josh Hairston and Tyler Thornton as well as redshirt sophomore Seth Curry.  Then there is the welcoming of the returning aforementioned senior players who will all get their national championship rings as a new banner is unveiled in the backdrop.
In the stands will be a bevy of future Blue Devils and their most recent get in Austin Rivers and special guests will be making an appearance as well.  All of the faithful will be gathered in the Holly Temple that seats just over 9000 fans elbow to elbow, shoulder to shoulder.  Seriously, what else can be said and how much more hype does this event need?
Meanwhile, the football team will take on a mad bunch of Canes as Miami invades Wallace Wade Stadium.  Duke is playing for the future, one which is brighter than it might seem as this time.  Duke has nothing to lose the rest of the way and there are still winnable games on  the schedule.  Take away a couple of mistakes and Duke would have two ACC wins over Wake Forest and Maryland and games.  And  with Virginia and Boston College on the home schedule it's looking like the Blue Devils have a shot to garner a few more wins.  Please continue to support this young team and they will in time give you reason to cheer loud and proud.
Stay tuned to BDN for full CTC and Duke-Miami coverage.