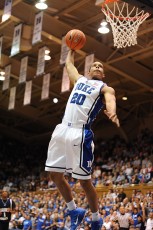 DURHAM - The Duke Blue Devils looked like a bunch of roadrunners on Saturday evening on their way to a whopping 141-68 exhibition victory over the defending CIAA Champions, St. Augustine's. No matter who Duke went to on a ten player deep bench they didn't lose a thing no matter who was on the court.
Kyle Singler led Duke with 31 points and 8 boards, while six of his teammates scored in double figures. "I thought Kyle played great tonight. He's been shooting the ball like that," said Krzyzewski in his post game press conference.
Dawkins dropped 20, Irving 17, Curry and Smith had 15 apiece while Kelly added 12. Duke shot 65.7% from the field and the most impressive stat were their 39-0 edge in fast break points. Duke held a 34-13 edge in points off turnovers as well.
Duke doubled St. Augustine's in the paint 40-20 and six Blue Devils had multiple three point buckets and that will obviously be a major strength of this seasons team.
"This is a good shooting team and we want a lot of possessions because we can space the court. The thing we have to do is play defense and rebound and if we do that we can be very, very good," said Krzyzewski.
BDN Sidebar - Duke will have 12 days before they take to the court again against Cal Poly-Pomona in their final exhibition game and they open the season on November 14th for real against Princeton in the O'Reilly Auto Parts CBE Classic. Duke scrimmaged with ACC officials this past week and Coach praised the guards assist-turnover ratio, but mentioned that the bigs were not as effective. Coach told me that the big men needed to be effective with fewer shots this season during Operation Basketball and he had to like Mason Plumlees total of 6-6 from the field to go with a 8 rebounds, 2 assists and 3 blocks which epitomizes what he is looking for.  Check back in for more on Sunday and bookmark Blue Devil Nation for some of the best Duke Hoops coverage you'll find.
Coach K post season press conference -
Just press play -