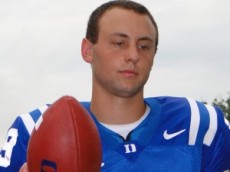 There is nothing better than a win for a struggling team and the Blue Devils held off a Navy rally holding on for a 34-31 victory and in the process spoiled  Navy's homecoming.  Duke took control of the game early running out to a 24-0 lead at the half before the Middies knew what hit them.  Duke quarterback  Sean Renfree was on fire today hitting 28 of 30 passes for 328 yards rushing for two scores and throwing for another.  And his counterpart, Brandon Connette did his thing as well, rushing for a touchdown, gaining 34 yards on carries.
The Duke offense limited Navy's time of possession with several long clock churning drives which helped them keep a lead until a late Navy charge which produced 24 4th quarter points.
Just when you thought Duke was about put together four quarters of football for the first time this season the defense buckled in the 4th quarter with penalties and Navy picking on a Duke defensive back.  But it was the absence of turnovers which helped throttle the Middies where Duke had not a single one on the day and that helped them to a much needed victory.
The Blue Devils will be at home next week against ACC foe Virginia who is coming off an upset win over Miami.  More to come ...